By Thomas Lemmer. Published in the Summer 2022 issue of the Command Magazine by the Illinois Association of Chiefs of Police.
This article provides an introduction to the Eight Levels of Supervisory Engagement Model. The model was created by Thomas Lemmer, who offers supervisory engagement and management accountability instruction to senior police supervisors and executives, as well as those tasked with police oversight efforts. The model has been accepted by the Illinois Law Enforcement Training and Standards Board (ILETSB), which Lemmer continues to present in collaboration with the ILETSB's Executive Institute.
COMMAND-Summer2022.Lemmer-IntroTo8LevelsSupvEngagement

The model focuses on three key variables: (1) the level of technical knowledge and tactical skill; (2) the willingness of a supervisor to direct subordinates and proactively address performance issues; and (3) level to which the supervisor has come to reject (that is deviate) from the organization's values, goals, and strategies. From there eight engagement levels have been identified extending from the ideal, "supervisory excellence," down to the lowest and most concerning level, "supervisory sabotage."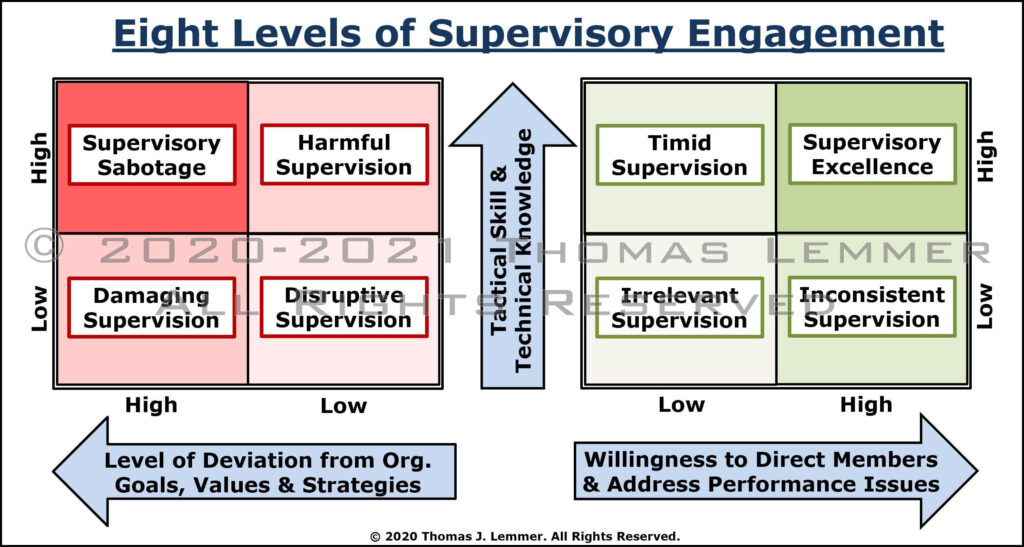 Lemmer advises that just as what police officers do matters: "What we do as police supervisors and executives matters as well." To this end, the model also provides 19 separate leadership response strategies to be used in fostering an environment of supervisory excellence within a law enforcement agency.
The article was published as a companion summary to the executive training Lemmer conducted for the members of the Illinois Association of Chiefs of Police (ILACP) at their annual conference held in April 2022. As noted in the article, Lemmer's April conference presentation came immediately following a presentation on the partnership efforts of the ILACP and the National Association for the Advancement of Colored People (NAACP). Together the ILACP and NAACP identified Ten Shared Principles focused on public safety and policing. In concluding the article Lemmer advised: "As police agencies continue to move forward, building and maintaining supervisory excellence will be key to both their successful implementation of these principles and their overall ability to enhance public safety."
What are you thoughts on the importance of supervisory in policing? Leave a comment below regarding this article and topic. Also more learn about this insightful model, and how to bring supervisory engagement training to your agency, by going to the model's training overview page.
---
We are interested in your thoughts, and invite you to comment below.