The focus and level of engagement of an organization's members are key variables in separating highly-effective agencies from failing ones. In any department with more than one member, no police executive can know all that goes on, at all times, within their organization. Even in smaller agencies, having one or two top-performing members is not enough for the organization overall to meet its mission. Two interrelated engagement approaches are key in establishing a highly-effective organization. First, fostering excellence among the agency's supervisors. Second, establishing internal assessment approaches that continually measure and build the organization's core performance capabilities.
The Eight Levels of Supervisory Engagement
A fundamental truth of organizations, including law enforcement agencies, is that underperforming and problem employees exist. When the underperforming or problem employee is a supervisor, the need for the organization to respond is elevated. Effectively addressing deficient and problematic supervisors is advanced with an understanding of the "Eight Levels of Supervisory Engagement." These eight levels are identified by considering three key variables: (1) the level of technical knowledge and tactical skill; (2) the willingness of the supervisor to direct subordinates and proactively address performance issues; and (3) whether and the level to which the supervisor has come to reject (deviate) from the organization's values, goals, and strategies. Once the eight engagement levels are understood, 19 separate response strategies can either improve supervisory performance or mitigate the harm from problem supervisors. Learn more here about the "Eight Levels of Supervisory Engagement."
Highly-Effective Organizations Measure
There are two key reasons for an organization to measure its performance, which is a composite of the performance levels of all of its members. First, standards provide the pathway to excellence. Only through measuring can an agency know how well it is meeting its mission. Second, you can be sure that someone outside the organization will be measuring. This is particularly the case when others believe your agency is not "measuring up." Three "R" factors combine to identify a police agency's performance level. They are: (1) "Readiness," examining factors relating to preparedness; (2) "Response," examining factors relating to the agency's activities and operations; and (3) "Reach," examining factors relating to staff utilization internally, as well as coordination with other agencies, and the community.
Identifying the key measures for your department for each of the "Three Rs" is the first of three key performance enhancement steps. The second is actually doing continual assessments. The third is having the courage and skill to address underperformance. Learn more here about measuring police performance.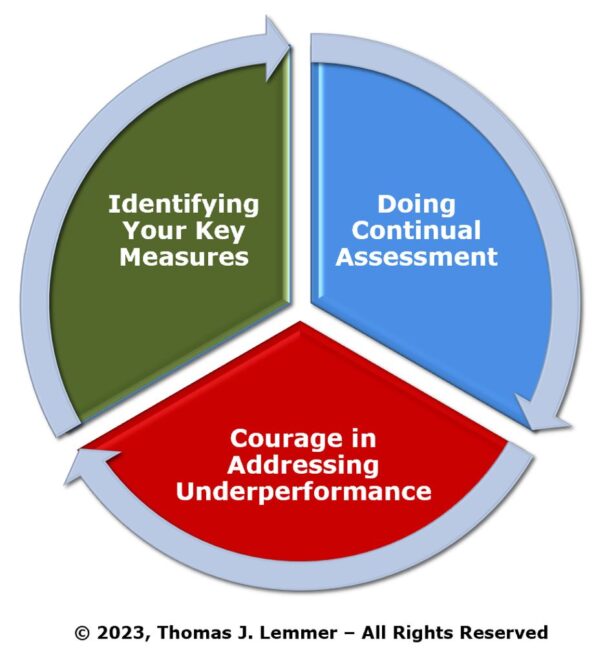 Training Built from Experience
Thomas Lemmer has worked in and studied the public safety profession for over forty years. He was a member of the Chicago Police Department (CPD) for more than 34 years. As a lieutenant, captain, commander, and deputy chief, Lemmer amassed two decades of experience directing, managing, and assessing law enforcement supervisors and executives. From that background, he created the Eight Levels of Supervisory Engagement Model.
While serving as a deputy chief, he oversaw key collaboration functions and coordination efforts, including Chicago's regional fusion center. Secondly, he developed the oversight processes key to improving the management of CPD's 22 Strategic Decision Support Centers. Most visibly, he also directed the department's CompStat meetings.
In that role, Lemmer enhanced the department's management accountability processes, and he identified the "Three Rs" of his CompStat approach. A police policy and procedure expert, he authored CPD's General Order, "CompStat and Command Engagement." This directive was CPD's first such policy document that formally outlined and coordinated it's core management accountability processes.
Who Should Attend this Training?
The Illinois Law Enforcement Training and Standards Board – Executive Institute (ILETSB-EI) periodically hosts this training for Illinois law enforcement executives, command staff and supervisory personnel the rank of lieutenant and above. This seminar is also of value to city and village managers, as well as other governmental officials with oversight responsibilities relating to public safety.
The next session of this training sponsored by the ILESTB-EI is tentatively set for the first quarter of 2024. The Executive Institute is an excellent training gateway. Illinois law enforcement personnel are encouraged to check their current listing of course offerings. ILESTB Mobile Training Unit #16 has scheduled this training for 21 September 2023. That session will be held in New Lenox, Illinois. Command and supervisory law enforcement personnel in the Tri-River/Will County, Illinois area are encouraged to register via their MTU training coordinator.
Secure 1776 also provides direct client training sessions with attendance limited to the registrations approved through sponsoring agency. To bring this training directly to your agency, anywhere in the United States, complete the below contact form.
Check our "Upcoming Training Events" tab, for additional training conference events that are open for law enforcement and/or public safety professionals to enroll.
Need Assistance? Contact Us Now
To learn more about this course, or to start the scheduling process, please fill out the below form or email us at admin@Secure1776.us.
We can also assist your agency with research, onsite inspections, accountability approaches, policy development, performance assessments, process evaluations, supervisory engagement, and operational planning. Customized training and consulting options are possible to meet the specific needs of your agency. Contact us now.
---
---