Your police officers probably do not conduct any surveys. But, cops ask questions all the time. It is at the core of what they do, and we expect them to ask questions. They investigate suspicious activity; gather information from victims and witnesses; evaluate crime scenes; probe for evidence; inspect their equipment; and assess their training and skills.
The executives and command personnel who lead police agencies should be asking questions as well. Among the key groups that they should be seeking to learn from are their agency's own officers, supervisors, and other members. Unfortunately, many police chiefs have not conducted any surveys either. That can be a problem, or at least a missed opportunity.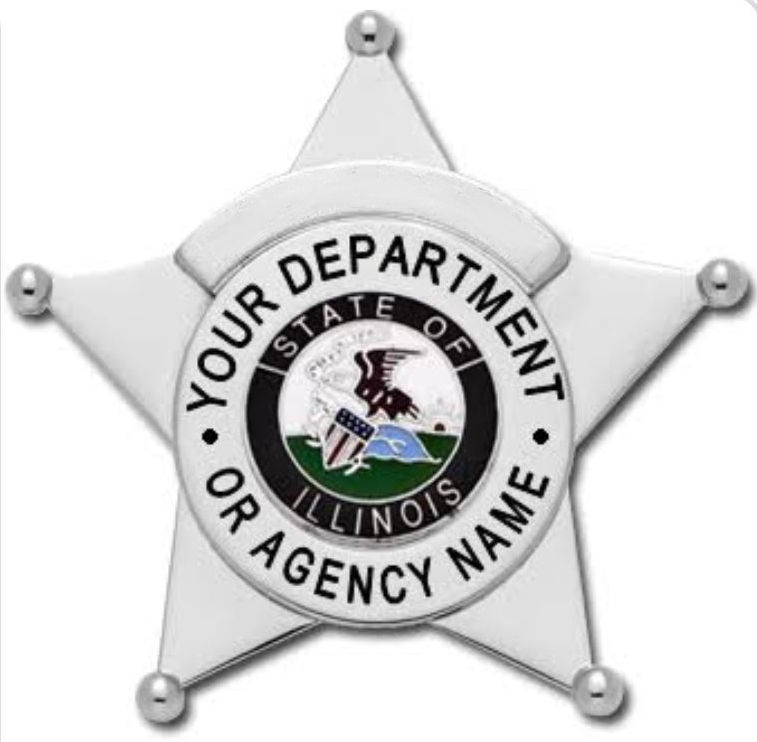 Your members know a lot about your agency, their roles, and the issues that impact their ability to perform their duties. Has your agency asked them? Was it in a way that they felt comfortable telling you what they actually believe? Has your agency conducted an internal survey?
Why Survey Your Members?
When asked about a staff survey, many police executives will say: "I talk with my people all the time. I know what they think." Perhaps. But, those leaders likely know less than they could know. In every profession, it is not uncommon for employees to be hesitant, even afraid, to speak their minds to those in charge. Policing has always been an especially challenging profession, with many risks. For officers and first and second-level supervisors, they often perceive risks in telling "the bosses" anything other than what they believe the bosses "want to hear." The rank structure in policing can further complicate the flow of information up. However, a properly conducted, staff survey can break through those concerns.
The members of your agency have key feedback that its police executives need to hear. We can help you securely survey your members.
Our Surveys Provide Insights and Opportunity
Our approach allows us to gather assessments, input, and concerns from your members in a manner that maintains their confidentiality. The process is conducted electronically via our secure web domain. Client agencies receive a detailed report explaining the responses and identifying distinctions between the ranks. Our analysis reporting and agency training seminars that include survey data never identify the individual participants. This raises the comfort levels of the participants, which then fosters more honest feedback.
Under our Survey and Train Plan, we can conduct a participant survey in the weeks before agency training sessions are held. Then using that response data, session exercises and discussions are customized based upon the survey findings. This approach has been described as a game changer in bringing core training concepts involving staff concerns, accountability, effectiveness, supervision, management, and leadership to life in a way that directly relates to your agency.
Take a Test Drive of a Sample
Depicted below is a slide from a prior agency client. The survey data is real, the client agency has been removed to provide the sample. In our training with agency supervisory personnel and leadership, we discussed the findings.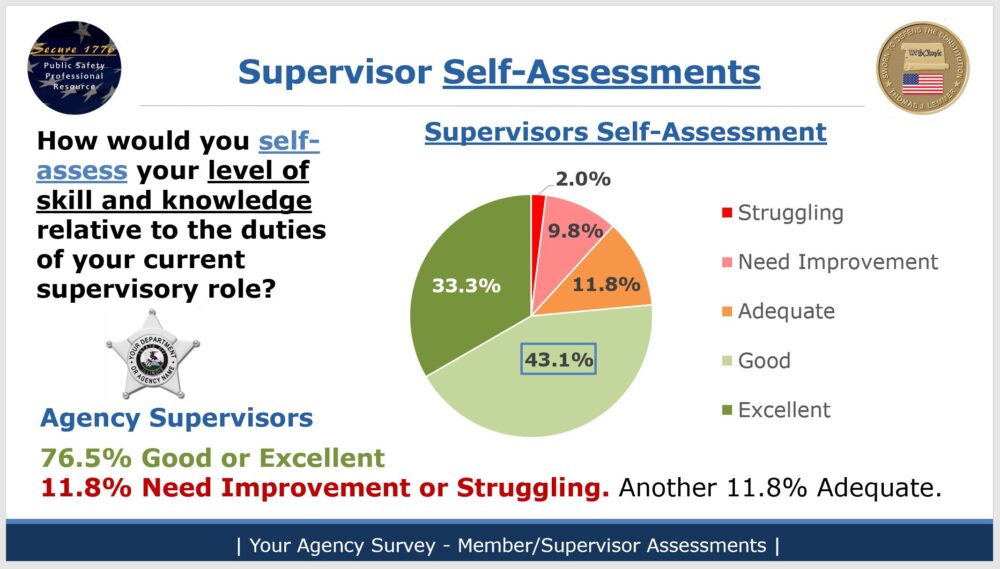 As a reminder, excellence is the desired performance level among highly-effective agencies. Knowing how an agency's personnel self-assess their own abilities is among the key opportunities a survey can provide.
With each client agency we create a confidential survey page link that is made available to the participants. In an actual survey, we would gather the agency email addresses for the members to be surveyed from the agency. We then email a unique password to each participant. Participants are then able to login and provide their responses on our secure domain.
You can explore a sample survey of an agency's supervisors be clicking here or on the image. The sample page will open in a new tab.
While the sample relates specifically to supervisors, the survey can be of all ranks, or exclusively of officers. The questions asked are always customized to the needs of the client agency.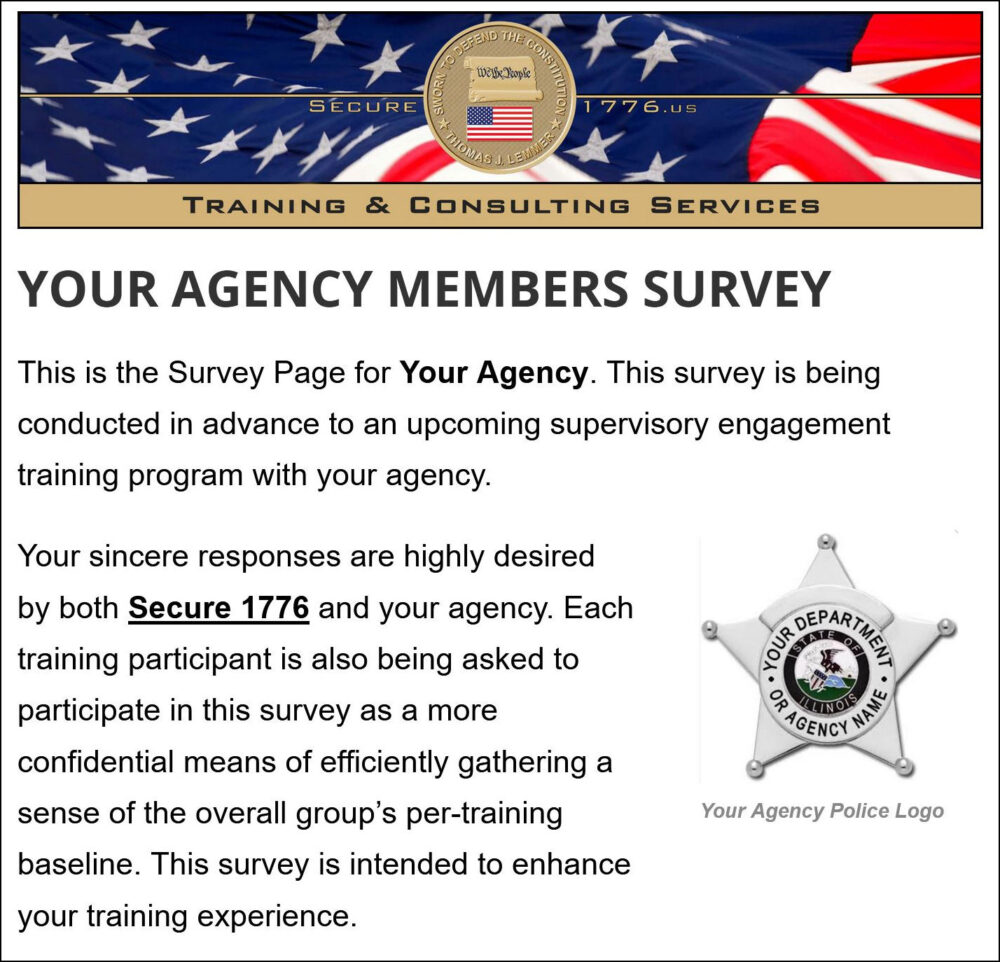 In an actual survey, the participants would be able to complete and submit their responses only once. In this sample, you can go through and explore the questions multiple times. Take the sample design on a test drive.
We have an extensive and growing library of survey questions. The questions can also be designed to dive deeper into focus topic areas. Among the key issues of interest and concern within the profession relate to officer wellness. Agencies benefit when they listen to their members.
Get The Process Started
Bringing this opportunity to learn more from your members and about your agency is easy. Get started now be either emailing us at admin@Secure1776.us or by completing the brief contact form below.
We look forward to assisting your agency.
---
---