There are two key reasons for an organization to measure its performance, which is a composite of the performance levels of all of its members. First, standards provide the pathway to excellence. Only through measuring can an agency know how well it is meeting its mission. Second, you can be sure that someone outside the organization will be measuring. This is particularly the case when others believe your agency is not "measuring up."
Three "R" factors combine to identify a police agency's performance level. First, "Readiness," examining factors relating to preparedness. Second, "Response," examining factors relating to the agency's activities and operations. Third, "Reach," examining factors relating to staff utilization internally, as well as coordination with other agencies, and the community.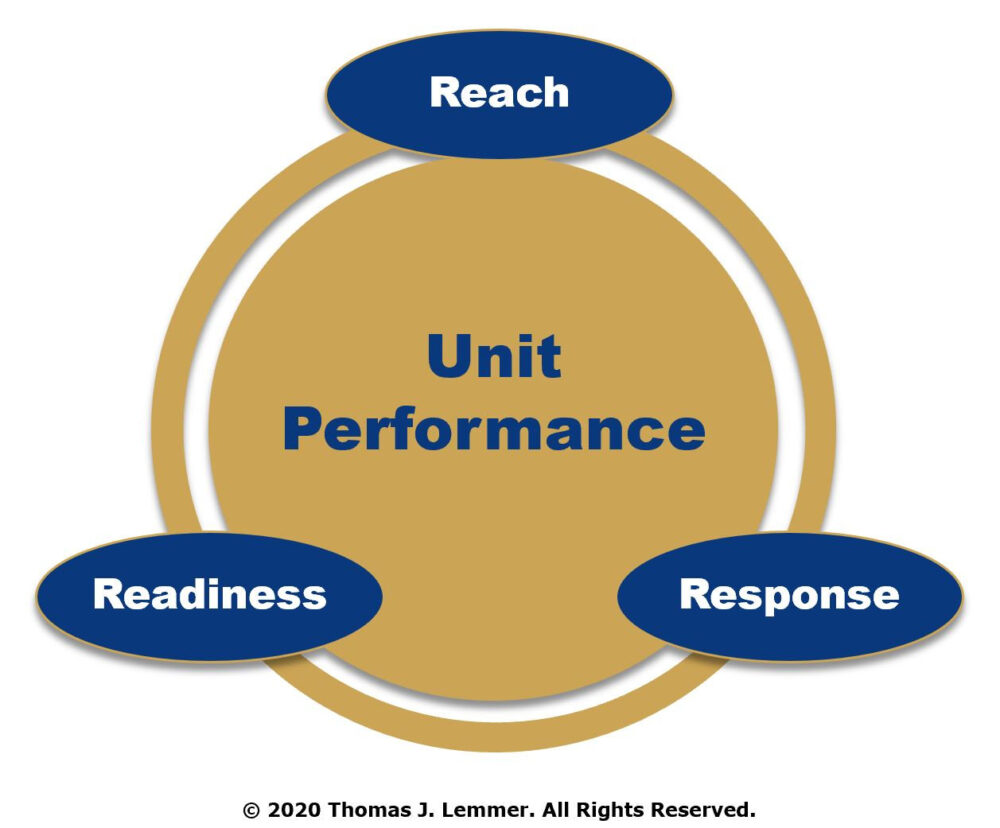 Identifying the key measures for your department for each of the "Three Rs" is the first of three key performance assessment steps. The second is actually doing continual assessments. The third is having the courage and skill to address underperformance.
Undeniably, supervisory engagement is core to the successful utilization of this oversight approach. Building upon this reality, this training is a key component of our full-day seminar, "Engagement that Meets the Mission." In the larger seminar, the "why measure" management accountability principles are interwoven with our Eight Levels of Supervisory Engagement Model.
Measuring in Challenging Times
A customized version of this training course was presented in May 2022 at the Massachusetts Association of Crime Analysts annual conference. The session pulled from the challenges that law enforcement agencies are currently facing, as well as our lessons in understanding the complexities of the "tragedy-free" policing narrative. Fundamentally, management accountability processes, like CompStat, remain best practice. While smaller agencies do not need CompStat, they do need to implement the underlying principles on which CompStat is based. The issue is not whether to measure. Rather, police executives need to ensure that they are seeking all of the correct measures. These should include the extent and strength of their local police-community relationship.
Training Built from Experience
Thomas Lemmer has worked in and studied the public safety profession for over forty years. He was a member of the Chicago Police Department (CPD) for more than 34 years. As a lieutenant, captain, commander, and deputy chief, Lemmer gathered two decades of experience directing, managing, and assessing law enforcement supervisors and executives. From that background, he created the Eight Levels of Supervisory Engagement Model.
While serving as a deputy chief, he oversaw key collaboration functions and coordination efforts, including Chicago's regional fusion center. Secondly, he developed the oversight processes key to improving the management of CPD's 22 Strategic Decision Support Centers. Most visibly, he also directed the department's CompStat meetings.
In that role, Lemmer enhanced the department's management accountability processes, and he identified the "Three Rs" of his CompStat approach. A police policy and procedure expert, he authored CPD's General Order, "CompStat and Command Engagement." This directive was CPD's first such policy document that formally outlined and coordinated it's core management accountability processes.
Need Assistance? Contact Us Now
To learn more about this course, or to start the scheduling process, please fill out the below form or email us at admin@Secure1776.us.
We can also assist your agency with research, onsite inspections, accountability approaches, policy development, performance assessments, process evaluations, supervisory engagement, and operational planning. Customized training and consulting options are possible to meet the specific needs of your agency. Contact us now.
---
---