Today, 29 November 2022, the 17th District of the Chicago Police Department is hosting a major blood drive with Chamberlain University Nursing School. Cops and nurses teaming up to help save lives. It is a natural partnership. Secure 1776 extends a salute to 17th District Commander Michelene Alexa, 17th District Community Policing Sergeant Michael Coughlin and Annie Ryan, Vice President of Chamberlain University Nursing School, for bringing this match to life. The event will be held from 11 a.m. to 5 p.m. at 2718 W. Roscoe Street in Chicago. Give blood. Safe lives. Help strengthen the relationship between the police and community. Save lives.
Estimated reading time: 4 minutes
More on the 17th District Blood Drive
Yesterday, Commander Alexa, Sergeant Coughlin, and Annie Ryan joined up on the Steve Cochran radio program to discuss today's blood drive. The segment is worth a listen.
Ryan notes that every 2 seconds in America a patient is in need of blood. She reminded listeners that "unfortunately there is no replacement for human blood." If you need blood, you must receive blood from someone who has given blood. Often multiple donors. Typically, open-heart surgery patients require five donations worth of blood during the course of their surgery.
Victim's of violence, which can include police officers, are among the trauma patients that can require far more blood to save their lives. Such victims often require ten times the amount of blood.
Commander Alexa explained the idea to hold today's blood drive was born from three disturbing shooting incidents of Chicago police officers. Those officers, Fernanda Ballesteros, Erik Moreno, and Jaime Avila, were all shot in the line of duty this summer in Chicago. Donations of blood were among the keys to saving their lives.
Police-Community Relationship
As we regularly note, the police-community is essential to public safety. Police departments are always looking for opportunities to partner with community stakeholders. The 17th District blood drive with Chamberlain University Nursing School came together from such an engagement effort. Chamberlain has a campus located in the district.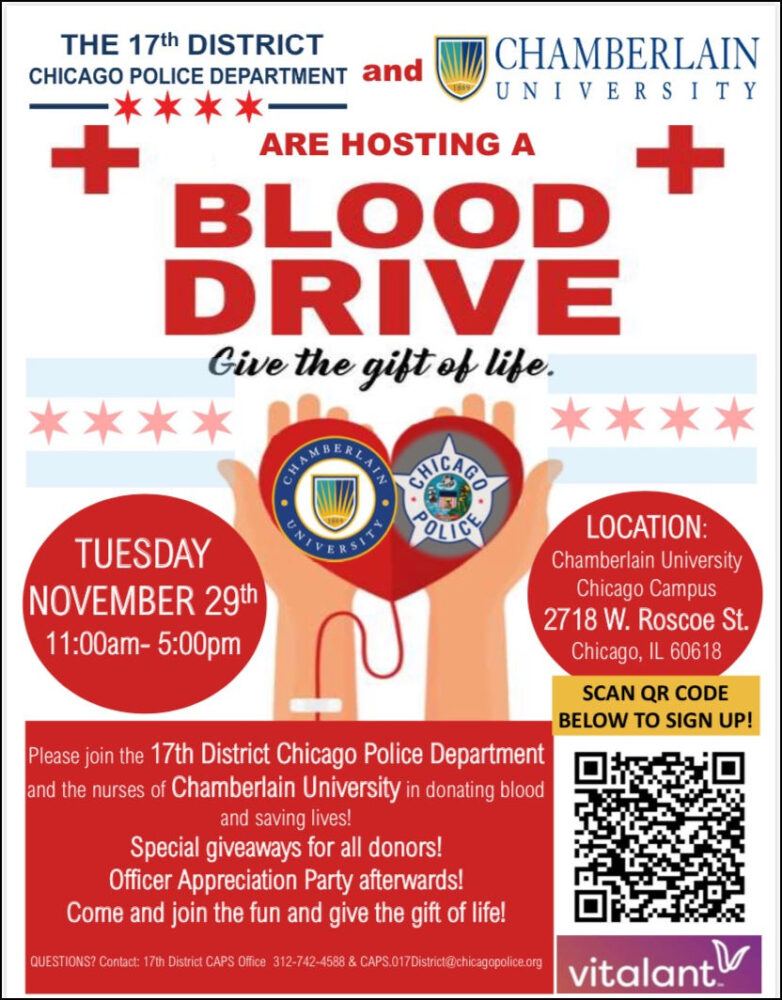 Sergeant Coughlin helped to echo the value to the entire community: "Blood. Everyone needs it." At their blood drive, the 17th District will have crowd-pleasing draws, including CPD's Mounted Unit and Honor Guard. For those interested in joining CPD, they will have officers from the department's recruitment team.
But, even beyond all of this, we know problem-solving fosters public safety. Every community pushes back against lawlessness from the strength of their police-community relationship. Our police are within the "community of us." Community engagement efforts that strengthen that bond provide specific and wider benefits. Blood drives help improve blood supplies. Back to school events help prepare students for their studies. Simple community cookouts can place positive activity in areas of disorder.
Such outreach efforts that bring the police and community together provide a wider, even if informal, opportunity to exchange information. "How are things going?" Where is there a need?
That problem-solving exists within the protective environment of the police-community relationship. As is the case with an incandescent light bulb, the strength of that relationship and protective environment are key.
A strong relation enhances problem solving. Improved problem solving enhances public safety. Outreach that enhances the bond between the police and community strengthens both the process and the outcome.
Leadership
Secure 1776 would also like to take a moment and highlight a key quote from Commander Alexa during the radio segment with Steve Cochran. Cochran had commented on the commander's length of service with CPD. Commander Alexa replied: "I still love it. Everyday I am humbled and honored to wear this uniform." A well stated leadership example.
Well done to ALL those who have done the work to put this event together.
Other Blood Drive Opportunities
Did you read this after the event? Are you beyond the Chicago area? Or, are you in Chicago, but you cannot make today's event? You can locate another blood drive and giving opportunity.
Find another blood drive or giving opportunity through the Community Blood Center or the American Red Cross.
---
We are interested in your thoughts, and invite you to comment below.