As we mentioned on 30 October in our post "More Spectacle Chicago, Not Remarkable," a combined 26 members of the Chicago City Council have the power to be remarkable. Why twenty-six? Well, in a 50-member council, 26 is a majority vote. But, that alone is not remarkable. The council votes in every session. A measure gaining 26 votes happens regularly. In fact, Chicago mayors rely on at least 26 members consistently voting as the mayor desires. Not remarkable. This has been true for generations. Today 20 members of the council sent a letter to Mayor Lori Lightfoot. The issue, Chicago's Civilian Office of Police Accountability (COPA). These 20 alderman expressed their assessment that Andrea Kersten should not continue to lead COPA. She is currently COPA's interim chief administrator. She was also the chief investigator who approved COPA's flawed report recommending slain Police Officer Ella French be suspended.
Estimated reading time: 6 minutes
The Voice of Twenty Defending Officer French
Secure 1776 applauds the 20 alderman who found their voice to defend Officer French. The three-day suspension recommendation released on 10 November is outrageous. The 20 council members who signed the letter made their position clear. Ms. Kersten does not have their support to lead COPA. But, "cops ask questions." So why haven't at least 26 alderman done something remarkable here? Why haven't all 50 alderman asked for accountability at COPA? More than just cops are looking for that answer. It bears noting that Ms. Kersten not only oversaw COPA's public release of the report defiling the memory of Officer French, she also approved the investigation in her prior role as COPA's chief investigator.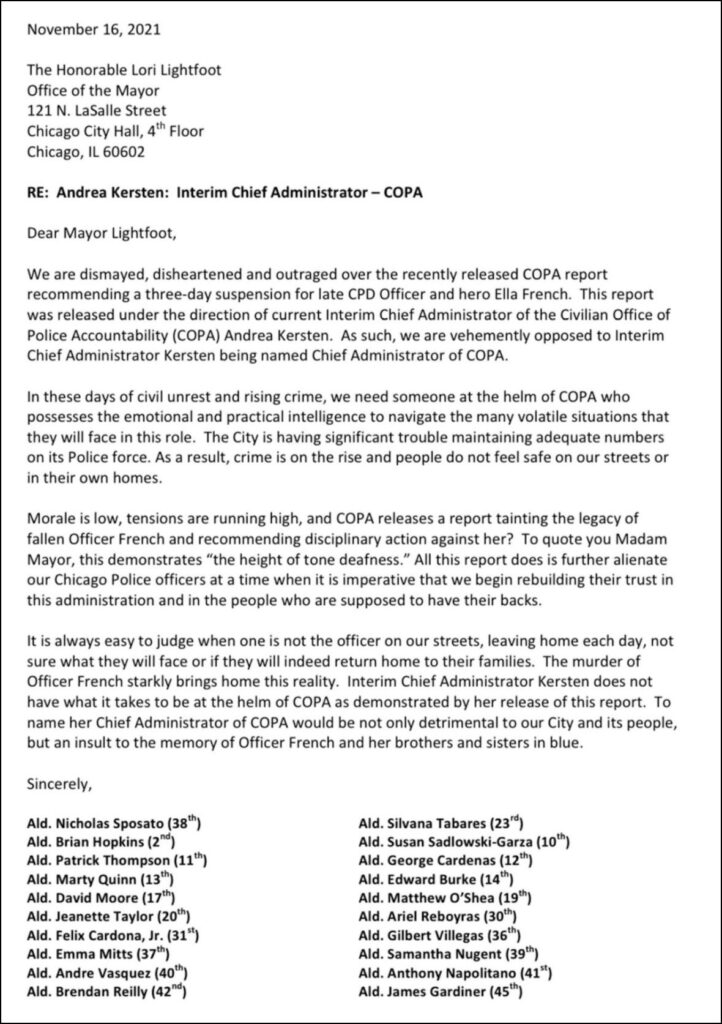 20 Alderman Signing the Letter to the Mayor
The twenty alderman who signed the letter to the mayor regarding Ms. Kersten are listed here.
Alderman Brian Hopkins (2nd Ward), Ald. Susan Sadlowski Garza (10th Ward), Ald. Patrick Thompson (11th Ward), Ald. George A. Cardenas (12th Ward), Ald. Marty Quinn (13th Ward), Ald. Ed Burke (14th Ward), Ald. David Moore (17th Ward), Ald. Matthew O'Shea (19th Ward), Ald. Jeanette B. Taylor (20th Ward), Ald. Silvana Tabares (23rd Ward), Ald. Ariel E. Reboyras (30th Ward), Ald. Felix Cardona, Jr. (31st Ward), Ald. Gilbert Villegas (36th Ward), Ald. Emma Mitts (37th Ward), Ald. Nicholas Sposato (38th Ward), Ald. Samantha Nugent (39th Ward), Ald. Andre Vasquez, Jr. (40th Ward), Ald. Anthony Napolitano (41st Ward), Ald. Brendan Reilly (42nd Ward), and Ald. James M. Gardiner (45th Ward).
30 Alderman Who Did Not Sign the Letter
The thirty alderman who did not sign the letter to the mayor are the following.
Ald. Daniel La Spata (1st Ward), Ald. Pat Dowell (3rd Ward), Ald. Sophia King (4th Ward), Ald. Leslie Hairston (5th Ward), Ald. Roderick Sawyer (6th Ward), Ald. Gregory Mitchell (7th Ward), Ald. Michelle Harris (8th Ward), Ald. Anthony Beale (9th Ward), Ald. Raymond Lopez (15th Ward), Ald. Stephanie D. Coleman (16th Ward), Ald. Derrick Curtis (18th Ward), Ald. Howard Brookins Jr. (21st Ward), Ald. Michael D. Rodriguez (22nd Ward), Ald. Michael Scott Jr. (24th Ward), Ald. Byron Sigcho Lopez (25th Ward), Ald. Roberto Maldonado (26th Ward), Ald. Walter Burnett, Jr. (27th Ward), Ald. Jason Ervin (28th Ward), Ald. Chris Taliaferro (29th Ward), Ald. Scott Waguespack (32nd Ward), Ald. Rossana Rodriguez Sanchez (33rd Ward), Ald. Carrie Austin (34th Ward), Ald. Carlos Ramirez-Rosa (35th Ward), Ald. Michele Smith (43rd Ward), Ald. Thomas M. Tunney (44th Ward), Ald. James Cappleman (46th Ward), Ald. Matthew J. Martin (47th Ward), Ald. Harry Osterman (48th Ward), Ald. Maria E. Hadden (49th Ward), and Ald. Debra Silverstein (50th Ward).
The COPA Findings and Recommendations
In our 12 November 2021 post, "Defiling the Memory of Slain Police Officer Ella French," we delved deep into COPA's investigation summary containing their suspension recommendation. As Secure 1776 readers know, the recommendation was tied to the controversial 2019 search warrant execution at the residence of Ms. Anjanette Young. We highly recommend reading that full post. Relative to COPA's investigative findings and recommendations. Here we highlight the following points from our analysis:
COPA did not sustain any allegations of wrongdoing against Officer French actually related to Ms. Young.
The two sustained findings against Officer French involved a body-worn camera (BWC) equipment error and a documentation error. Both findings dealt with a then "unknown male subject" behind the building where Ms. Young lived. Neither violation was shown to be intentional.

Officer French had no direct interaction with this subject, and she did subsequently activate her BWC.
COPA did identify the officer who initiated the "stop" of this person. That officer accepted responsibility for completing the required Investigative Stop Report, and acknowledged failing to do so.

In February 2019, Ella French was a probationary police officer just a few weeks past her formal field training cycles, and she had no disciplinary history. Given these factors, and the involved circumstances described in COPA's own investigative summary relative to the two errors, any suspension recommendation is excessive.
It is highly likely that COPA had time to revise their summary report following the murder of Officer French. The manner in which COPA left and publicly released their flawed penalty recommendation was reprehensible.
As interim chief administrator at the time of this release, and as the approving chief investigator of the investigation itself when it was submitted, Ms. Kersten bears responsibility. She has defiled the memory of a slain officer. She has disrespected a Gold Star Family. She has brought discredit upon the city, her agency, and the Chicago Police Department.
What Would Be Remarkable?
The Chicago City Council is not known for the remarkable. It would be remarkable if a majority of the council refused to confirm Ms. Kersten as the permanent head of COPA. Sadly, this is not likely. How else might the remarkable occur in this matter? Mayor Lori Lightfoot could immediately remove Ms. Kersten as the interim chief administrator. Will this occur? Secure 1776 notes the following. On 18 May 2021, the Chicago Sun-Times reported on how Ms. Kersten was appointed as the interim head of COPA by Mayor Lightfoot. The Sun-Times described Kersten's appointment as "bowing to pressure from police reform advocates." The pressure reportedly came from both among staff within COPA and externally among activists.
We note as well that Mayor Lightfoot has herself criticized COPA's debacle here. The mayor remarked COPA's actions as the "height of tone-deafness." Mayor Lightfoot's full remarks are shown in the video below. Secure 1776 notes that Mayor Lightfoot is one individual who can offer more than rhetoric. As an additional note on the video, the Fox32 report describing Officer French as "not wearing a body camera" is factually wrong.
The Sights and Sounds of Sacrifice
Secure 1776 was among those assembled at the Cook County Medical Examiner's Office in the hours after the murder of Officer French. We can assure our readers that the sounds of Amazing Grace and the Lord's Prayer are particularly impactful there. So too is a flag-draped body, without a coffin, embraced by a mother. We continue to thank and salute Officer French. Always remember her. We thank as well Father Dan Brandt for his care, comfort and prayers. We continue to apologize to Elizabeth French and to the entire French family for the failings of Chicago's leaders. We encourage all, including Ms. Kersten, to watch the below video.
---
We are interested in your thoughts, and invite you to comment below.

Copyright Protected | (c) 2021 Secure1776.us – All rights reserved.
If you are not currently receiving subscriber email notifications, subscribe now.