In the "Men in Black" film series secret agents use a device to erase memories. Those agents sought to conceal the activities of extraterrestrials. In New York, it is not secret agents telling the police to "forget about it," and the "it" is criminal activity. A ruling by New York Judge Lyle Frank has, in a sense, at least for now, memory holed about half of the arrest records of the New York Police Department (NYPD). As reported by US News & World Report, the issue centers around the sealing of arrest records when the arrest does not end in a conviction. That's good right? Well, like so much, the answer is both "yes" and "no." What we can say with certainty, victim's don't so easily get to just forget about it. Here we present a "Quick Read" update on our August post entitled, "Crime Victims Are Not the Priority."
Estimated reading time: 6 minutes
New York State Law – Public Defender Lawsuit
Section 160.60 of the New York Criminal Procedure, Chapter 11-A, Part 2, Title H is entitled "Effect of termination of criminal actions in favor of the accused." In brief summary, this section of state law holds that when an arrest does not lead to a conviction, the related records are to be sealed. The stated purpose in 1976, when the statute was enacted, was to prevent such an arrest from blocking the future employment of the accused person. Fair enough. However, in 2018, attorneys from the Bronx Public Defenders Office filed a class action lawsuit against the NYPD. The suit seeks to bar NYPD, absent a court order, from reviewing or considering any arrest records that relate to a case subsequently closed without a finding of guilt. Such is the case no matter why the case ended without a conviction.
The suit alleged that the disclosure by NYPD of previously sealed arrests to prosecutors and the media, upon the rearrest of the same person on new charges, violated the 1976 law. As such, the suit seeks to functionally prohibit the NYPD from investigating new crimes by looking at previously sealed arrest records. Such would not pose any significant impact on public safety, if no single offender ever committed a crime twice. Unfortunately, the volume of research on repeat offending clearly indicates that such is not the case. Secondly, and increasingly so, large percentages of cases are routinely dropped by prosecutors for a variety of reasons that have little to do with guilt and innocence.
Preliminary Court Injunction Impacting NYPD
On 27 September 2021, Judge Frank issued a temporary restraining order. The order bars NYPD personnel from accessing any sealed arrest records without specific authorization from a court. The judge also ordered the NYPD to submit a plan regarding: (1) restricting access to sealed arrest records going forward; and (2) revised training covering access to those records. US News & World Report, cited two points of particular note. First, as of 2019, the NYPD had about 6.5 million arrest records, going back decades. About half of those records are sealed under state law.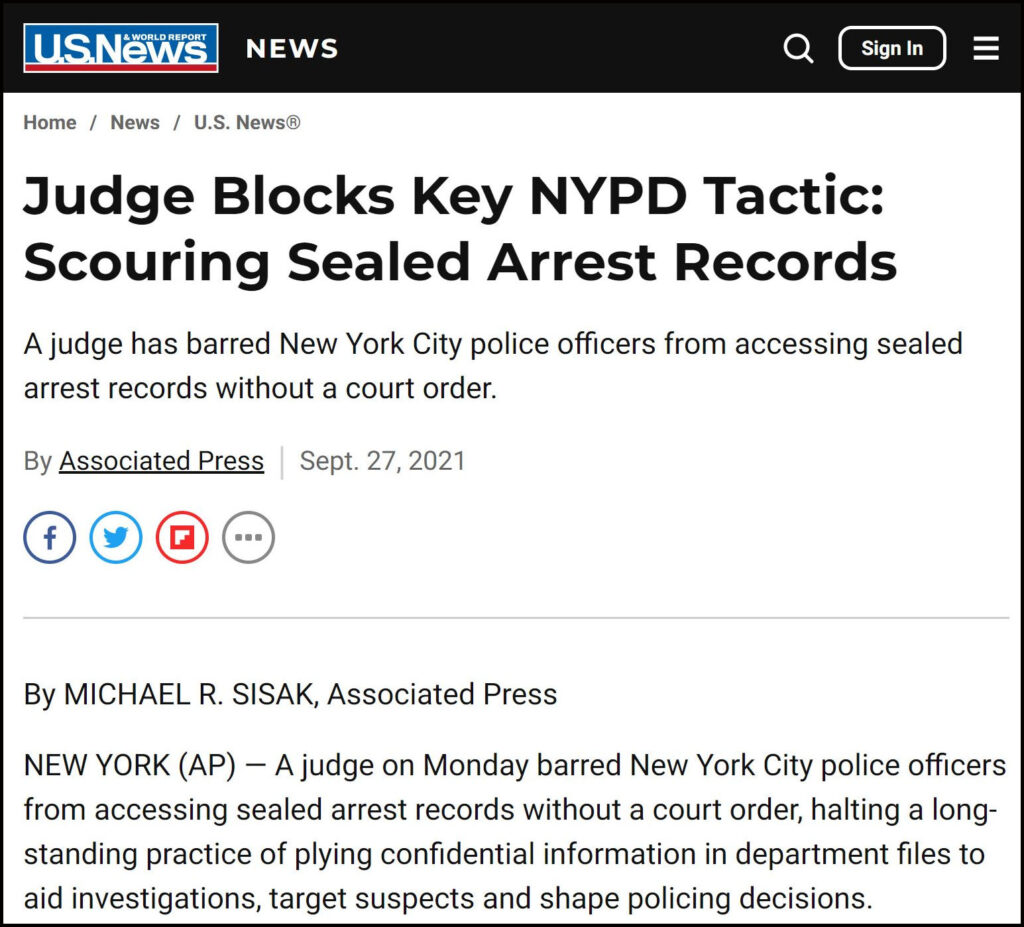 Secondly, under the existing NYPD practices, not every police officer could review sealed arrest records. Approximately 800 NYPD members reportedly had this ability. In total there are about 45,000 NYPD employees, including 36,000 sworn members. So it bears noting that if all 800 members with access to the sealed records were sworn officers, then just 2.2% of the department's officers had this authority. Such would not seem to reflect an agency that was ignoring the intent of the 1976 state statute to restrict access.
An NYPD spokesman was quoted as stating the following: "We're in agreement with the heart of the statute that someone should not be stigmatized for having a sealed arrest on their record. However, the police department can make use of the data and information from these records in furtherance of public safety without prejudicing an arrestee."
NYPD Commissioner Shea on "Forget About It"
In an op-ed published in the New York Daily News, NYPD Commissioner Dermot Shea specifically addressed the lawsuit and its potential impact. Shea agreed that arrest records in cases not ending a conviction should be confidential. He wrote there are "good reasons" to render these records "invisible to public record searches, so as not to affect a person's chances with prospective employers, landlords, schools or public benefits." However, he expressed public safety concerns, if the NYPD is forced to completely forget about these arrest records.
Shea noted that "there are a number of legitimate reasons for cops to know the records exist." In the op-ed he made reference to:
How frightened victims and intimidated or uncooperative witnesses can lead to cases being dismissed that correctly identified the accused.
Cases involving harm to children that parents sought to spare the children the trauma of testifying in court.
The use of offender diversion initiatives, which dismiss cases upon program completion.
Plea bargained offenders charged in multiple crimes, with some cases dismissed as part of the guilty plea on others.
Prosecutor policies that dismiss all cases for violations of law the prosecutor seeks to nullify.
Patterns of behavior suggesting the need for intervention services, particularly in domestic violence settings.
Officer safety issues relating to histories of violence or weapons use.
Internal investigations into allegations of officer misconduct.
Shea made another significant observation about the court actions sought by the public defenders. "The public defenders argue that the logical approach in all these instances would be for the NYPD petition the court for an order to unseal the records. But in this lawsuit, the plaintiffs also argue that police shouldn't be allowed to see that a sealed record exists — so how would we know to ask a court to grant access?"
Are Crime Victims "A" Priority

?
In their lawsuit, the public defenders do not address the concerns among crime victims. As the attorneys representing accused offenders, such is not surprising. Their actions, even if viewed by some as over zealous, are consistent with their role. However, the New York State Legislature bears a public safety responsibility that includes meeting the concerns of victims. Additionally, the state's courts – even civil court judges – should consider the impact of their decision on victims.
In 1785, Benjamin Franklin wrote on need for fairness in the justice system. He advised, "it is better 100 guilty Persons should escape than that one innocent Person should suffer." These words reflect a wisdom essential to ensure justice. At Secure 1776 we fully embrace the notion that a just system of laws protects the rights of the accused. Yet there is more to justice. Criminal justice reform discussions rarely mention public safety or crime victims. A just system seeks to foster public safety. A just system also ensures that crime victims are a priority. Even with a heavy Bronx accent, just "forget about it," fails to meet the standard for a "just" system. There are no "men in black" to erase the memory of crime and its impact on victims. A system that forgets more than it remembers is fundamentally unjust, and incapable of fostering public safety.
We recommend two related readings. First our prior post, "Crime Victims Are Not the Priority." Second, the article from Thomas Lemmer, "NewYork, NewYork: A Different Tune."
---
We are interested in your thoughts, and invite you to comment below.

Copyright Protected | (c) 2021 Secure1776.us – All rights reserved.