The Illinois Association of Chiefs of Police (ILACP) sought to honor an East Peoria, Illinois police officer as its "Most Outstanding Officer of the Year." The ILACP posted this honor on its Facebook Page. Is Facebook police friendly and supportive of such a posting? It would seem not. The ILACP has reported that Facebook has blocked the association's ad, seeking to promote their post on the social media giant. Why? Secure 1776 shares what we have learned.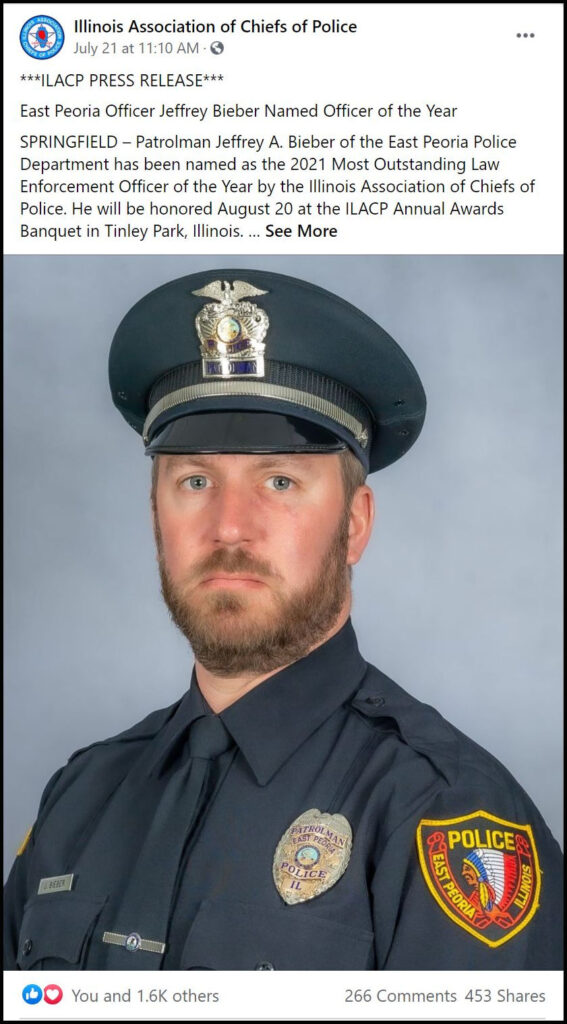 ILACP's "Outstanding Officer of the Year

"
The ILACP selected East Peoria Police Officer Jeffrey Bieber as the association's "Outstanding Officer of the Year."
Quoting the ILACP: "On February 2, 2021, Officer Bieber was responding to a domestic disturbance in East Peoria when he heard that the suspect had left the scene in a truck. Officer Bieber passed a vehicle fitting the description and followed it into a CVS parking lot. The driver and a passenger both got out of the truck. When Officer Bieber first engaged the driver, later identified as Joshua Crites, Bieber noticed blood on Crites' hands and offered to get medical assistance."
Crites subsequently pulled out a knife and attacked Officer Bieber. The officer attempted to deescalate the attack, regain tactical positioning, and attempted less-than-lethal force – deploying his Taser. These efforts failed. Crites began to stab Officer Bieber in the "head and neck multiple times, damaging nerves and hitting an artery, causing the officer to bleed profusely. Bieber ended up on his back with Crites on top of him. Officer Bieber was able to get to his firearm and discharge it successfully, ending the confrontation." After months of recovery, Officer Bieber has returned to duty.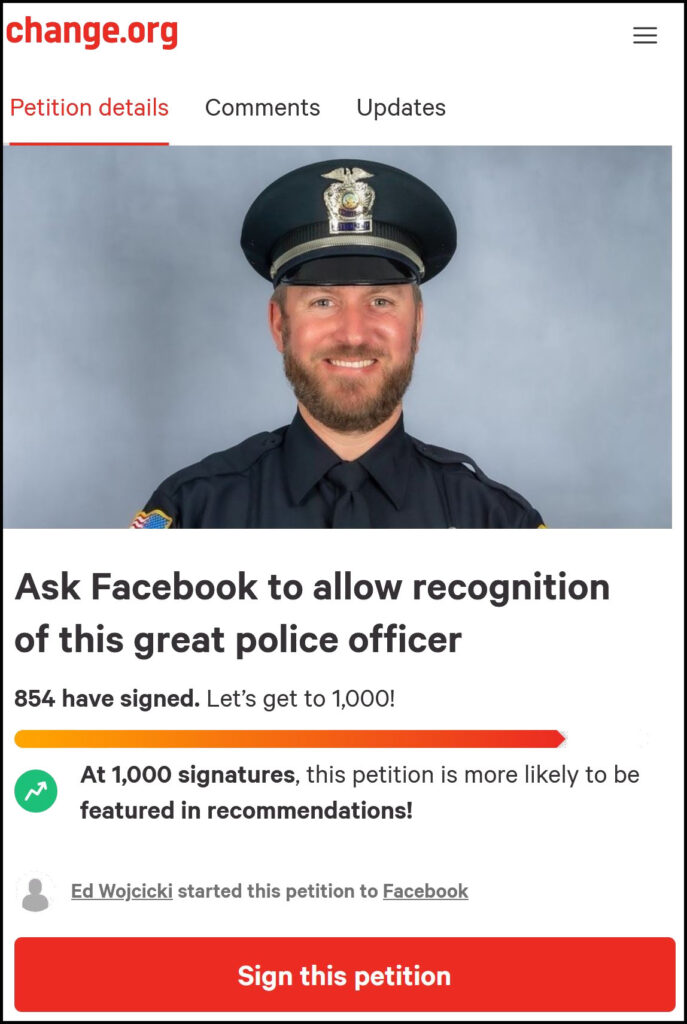 Is Facebook police friendly

?
The ILACP posted their designation of Officer Bieber as their 2021 "Outstanding Police Officer of the Year" on the association's Facebook page. As decribed by Ed Wojcicki, ILACP Executive Director, the association also went to purchase a Facebook advertisement to highlight the posting. Facebook has blocked this ad as a violation of their policy relating to politics and election interference. Wojciki provided the following response from Facebook:
— "Your ad may have been rejected because it mentions politicians or is about sensitive social issues that could influence public opinion, how people vote and may impact the outcome of an election or pending legislation. Our policy for running ads related to politics requires you to get authorized first by confirming your identity and creating a disclaimer that lists who is paying for the ads."
Wojciki reports that the ILACP ad does not mention any politician or refer to any election. Wojcicki added: "For Facebook to suggest that seems like a huge stretch and could be a signal that it wants to block good news about police. All we were doing is honoring a brave officer."
The ILACP has initiated a "Change.org" petition to draw attention to the unfriendly response from Facebook.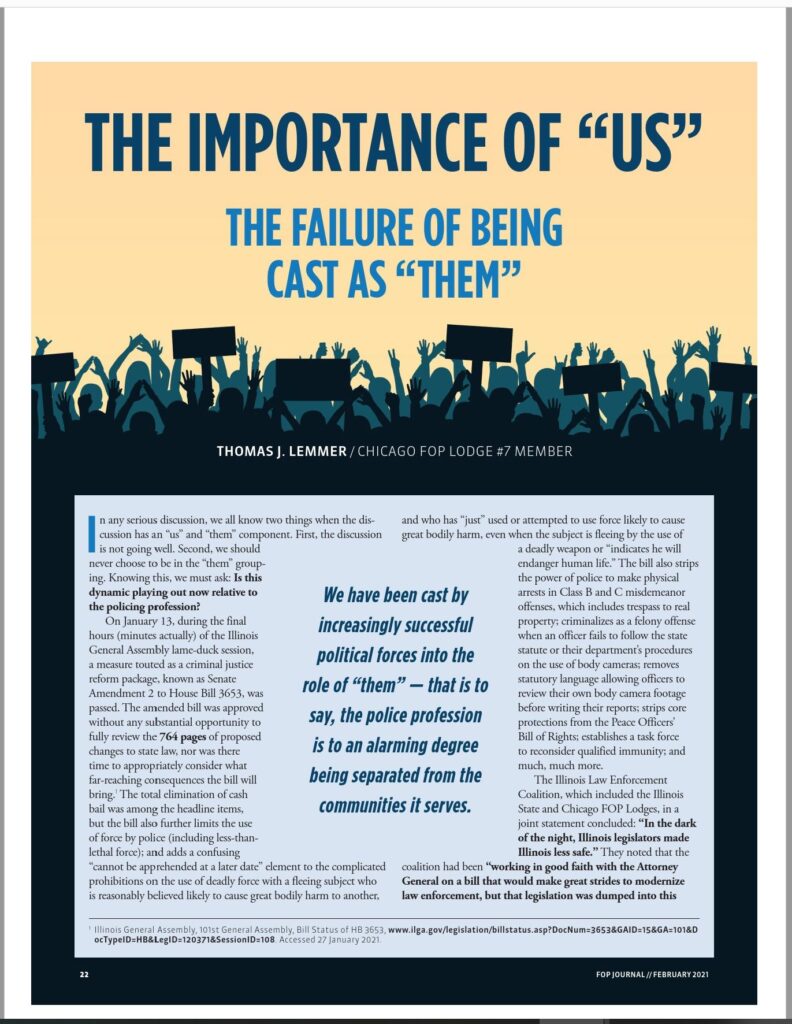 The Importance of "Us

"
Without question the influence of social media on all major issues in modern society has grown dramatically. With that growth, social media giants like Facebook have gained considerable sway in any debate they choose to exert their influence. By altering which posts get highlighted – even by simply accepting or rejecting paid advertising – Facebook can (and does) impact public opinion.
If the ILACP is correct, that Facebook sought to "block good news about the police," such would be an effort that weakens the police-community relationship.
As Thomas Lemmer noted in the February 2021 issue of the FOP National Journal,
— "Without question, as a community, and as a profession within the community, we are facing exceptionally challenging times. The way forward must be a proactive one. The way forward must be one with broad outreach across our community partners. We must reawaken the active engagement of veterans' groups, churches, civic organizations, neighborhood organizations, community groups, youth centers and more. As a profession, it is essential that we fully reawaken our community policing roots, and engage in active problem-solving directly with community residents and stakeholders."
Elected officials, civic leaders, community stakeholders and residents, need to let Facebook hear their voices in support of a police-community relationship that fosters pubic safety.
As of this posting, more than 850 individuals have signed the ILACP's petition – you can sign the petition by clicking here.
---
We are interested in your thoughts, and invite you to comment below.

Copyright Protected | (c) 2021 Secure1776.us – All rights reserved.