Last week we posted on the continued lawlessness and outright evil observed in three American cities on a single day – 14 May 2022. The most horrific of the incidents occurred in a Buffalo supermarket. But, evening lawlessness in the entertainment and downtown areas of Milwaukee and Chicago also stood out. Less than a week later, Chicago's downtown was the scene of yet another mass causality shooting incident. The latest mass shooting left two people dead and seven others wounded outside a major subway stop and a popular McDonald's restaurant on Chicago Avenue. That shooting incident happened on Thursday night, 19 May 2022. Today, Chicago Alderman Raymond Lopez (15th Ward) gathered the signatures of 29 other council members to call a Special Meeting of the Chicago City Council. The focus – Chicago violence and the city administration's plan to address lawlessness.
Estimated reading time: 6 minutes
The 19 May 2022 Chicago Avenue shooting escalated quickly from a street confrontation between two groups. Chicago Police have made two arrests in connection with this shooting. Jaylum Sanders, age 23, has been identified as the person who fired into the crowd killing Antonio Wade (age 30) and Anthony Allen (age 31). Sanders has been charged with two counts of first degree murder and other offenses. Also arrested and identified as being unlawfully in possession of a firearm during the confrontation was Kameron Abram, (age 20).
The Politics of Pubic Safety
Since 2020, Chicago has been among the cities struggling with elevated levels of violence. Not only did murders in Chicago spike dramatically in 2020, in 2021 murders increased again, ultimately totaling a stunning 801. While as of last week, so far murders this year are down from the astonishingly high level experienced last year, as compared to 2020, murders year-to-date are up 13 percent. Compared to 2019, the current year-to-date comparison is up 25 percent. Additionally, even compared to last year, carjackings are a frequent local news item, and overall index crime in Chicago is up 35 percent. Chicagoans have noticed.
Alderman Lopez is an announced candidate for the February 2023 election for Chicago mayor. He is a vocal critic of the current mayor, Lori Lightfoot – particularly with respect to Chicago's violent crime problem. As Secure 1776 has previously observed, whenever a majority of the Chicago City Council takes action different than directed by the city's sitting mayor, such is a remarkable – as in rare – event. The call by 30 council members for a special council meeting, an effort led by Alderman Lopez, places the council in a position where it once again suggests it seeks to be remarkable. This coming Wednesday, 25 May 2022, the council has directed Mayor Lightfoot's administration to present a public safety plan – before the start of summer. Specifically, the council has directed Police Superintendent David Brown to testify on the planned police strategy. Also directed to appear, and explain their public safety approaches, are the head of the Chicago Park District, Rosa Brown, and Pedro Martinez, the Chief Executive Officer of Chicago Public Schools.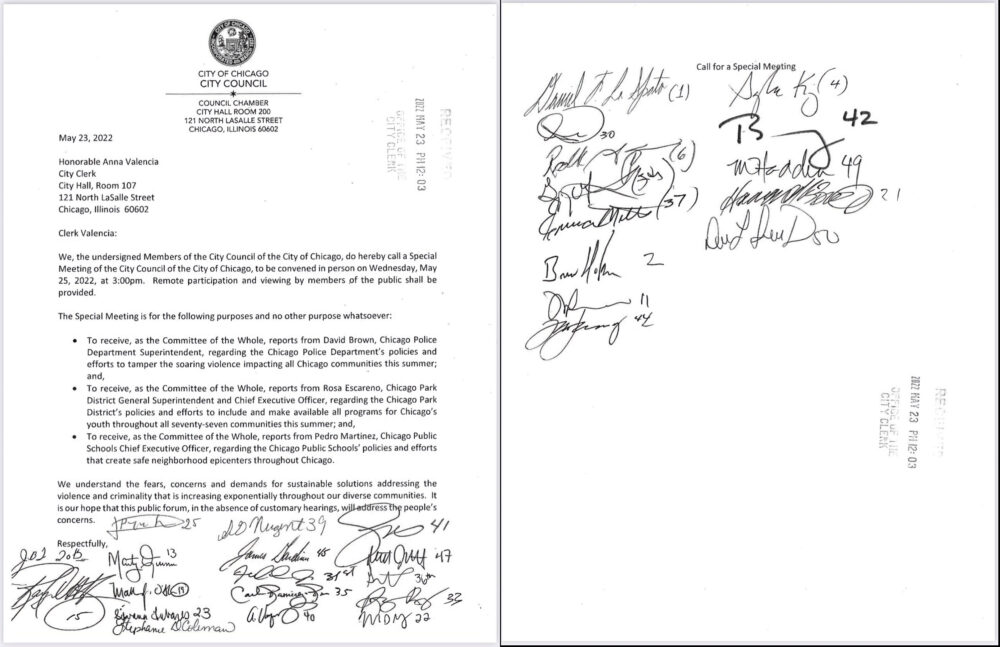 The Council House Bet
To say politics may be at least a factor in the actions of an elected official – particularly in Chicago – is to state the obvious. However, the people of Chicago continue to await the remarkable. Any city council action that enhanced public safety in Chicago would be welcomed in a city that is struggling with frequent examples of lawlessness. But relative to its city council, Chicagoans have "seen this movie before." Strong political rhetoric – some even well intended – but little in the way of tangible positive impact. There has been much discussion about a Chicago casino. In a casino the odds are with the house. The safe house bet – regarding the upcoming special council meeting – is that any outcomes from the session will be unremarkable. But it is late on Monday, and we can hope for better.
UPDATE on the Special Session
Well, 25 May 2022 has now come and gone, and there is an update to this post. There was an unexpected plot twist to the movie. No, there was still no tangible positive impact from the special meeting of the council. In fact there was no impact at all. Why? The sitting mayor of Chicago proved once again that the mayor is the city's most powerful elected city official.
Changes to Chicago's Juvenile Curfew Ordinance
In the first part of Wednesday, 25 May 2022, there was a previously scheduled session of the full council – which was presided over by the mayor, as is the norm. Despite vocal opposition from some council members, Mayor Lightfoot had a clear victory. On a 30-to-19 vote, the council approved the mayor's change to the city's longstanding curfew ordinance. The revision lowers the weekend time for juveniles 17 years old and younger to be out in public, without a parent or guardian, by one hour to 10 p.m. This change removes the prior allowance of one additional hour on Friday and Saturday nights for older juveniles. Now, city ordinance establishes the same limit for all nights of the week.
The hard part of the curfew is yet to come. Will parents seek to keep their teenaged children safely home as evening turns into late night? Will those teens that remain out past curfew be stopped and brought home? Will parents with teens brought home by police then actually help keep them home?
Curfew enforcement has declined dramatically in Chicago over the years. Testimony before the council from the Chicago Police Department (CPD) indicated that as of mid-May, so far in 2022 there had been just 98 curfew violators documented citywide by police. By comparison, in the year 2000, CPD documented 50,241 curfew violations citywide.
The Special Session Itself

:

Well the special session was really the session that did not happen. Mayor Lightfoot did not attend, which is not the norm. The sitting mayor is by city charter the presiding officer of the council. In this role, the mayor should have been in attendance at a properly called special session. Also, as mayor, the administration officials required by the special session notice to appear are under her direction. As noted above, the council had directed Police Superintendent David Brown, Park District General Superintendent Rosa Brown, and Public Schools Chief Executive Officer Pedro Martinez to testify on summer violence response planning.

No doubt the mayor provided guidance to these city officials. None attended. So what happened? Nothing happened. Such was a silent – very silent – but clear second victory for the city's most powerful elected official.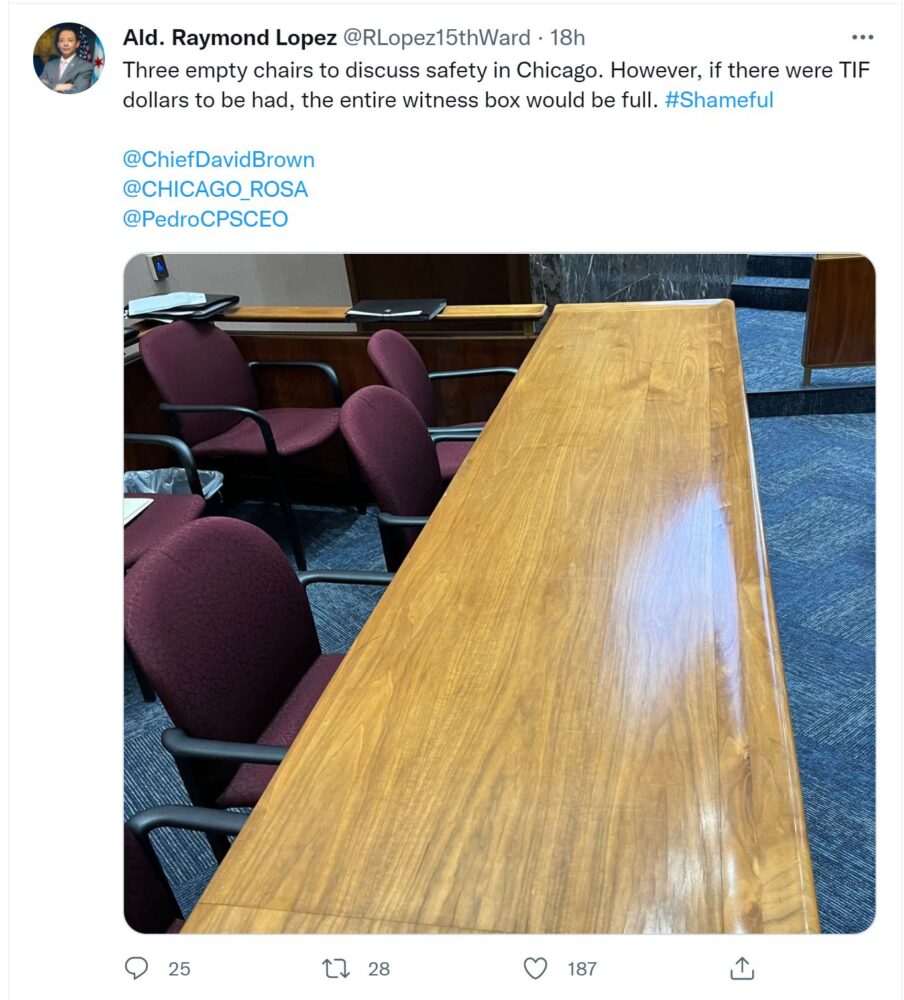 Alderman Lopez, who led the call of 30 council members for the special session posted on Twitter after the session that wasn't. The tweet provided a photo of the council witness box – empty. The text of the tweet read in part: "Three empty chairs to discuss safety in Chicago."
The Chicago politics of public safety were on display for those paying attention. One political move, topped by an opposing political move, and then acknowledged in a political response.
We are interested in your thoughts, and invite you to comment below.
---