The Illinois Association of Chiefs of Police (ILACP) has published an article from our founder, Thomas Lemmer, in the Summer 2022 issue of Command Magazine. The article is entitled, Introduction to the Eight Levels of Supervisory Engagement. The article is a follow-up to the executive training Lemmer conducted for ILACP members, at their annual conference held in April 2022, on his supervisory engagement model. The article begins with an exchange Lemmer had with an uninspiring sergeant early in his career. Of this interaction, he remarked: "I have worked in public safety positions for forty years, of which more than 34 years were with the Chicago Police Department (CPD), including nearly a quarter of a century as a supervisor. I remain inspired by that day's vivid example of what supervisory excellence does not look like." Lemmer advises that just as what police officers do matters: "What we do as police supervisors and executives matters as well." To this end, his model also provides 19 separate leadership response strategies to be used in fostering an environment of supervisory excellence within law enforcement.
Estimated reading time: 0 minutes
The Eight Levels of Supervisory Engagement Model
Lemmer created the model drawing upon his extensive experience in public safety positions, including more than two decades directing, managing, and assessing Chicago Police Department supervisors. He continues to actively provide supervisory engagement and management accountability instruction to senior police supervisors and executives, as well as those tasked with overseeing police oversight efforts. His model has been accepted by the Illinois Law Enforcement Training and Standards Board (ILETSB), which Lemmer continues to present in collaboration with the ILETSB's Executive Institute.
Police supervisors performing at the excellence level, simultaneously safeguard their officers, successfully implement department strategies, and in so doing, they help their agency overall to meet its public safety mission – consistent with community expectations. "Supervisory excellence," is the highest of eight levels Lemmer's model has identified through the examination of three key variables. They are (1) the level of technical knowledge and tactical skill; (2) the willingness of a supervisor to direct subordinates and proactively address performance issues; and (3) level to which the supervisor has come to reject (that is deviate) from the organization's values, goals, and strategies.
The lowest and most concerning level of supervisory engagement is identified as "supervisory sabotage." Such supervisors actively question organizational approaches, and discourage others from positive performance. Even worse, they may have alternate objectives. These supervisors jeopardize both the well-being of their officers and the ability of their agencies to meet their public safety mission.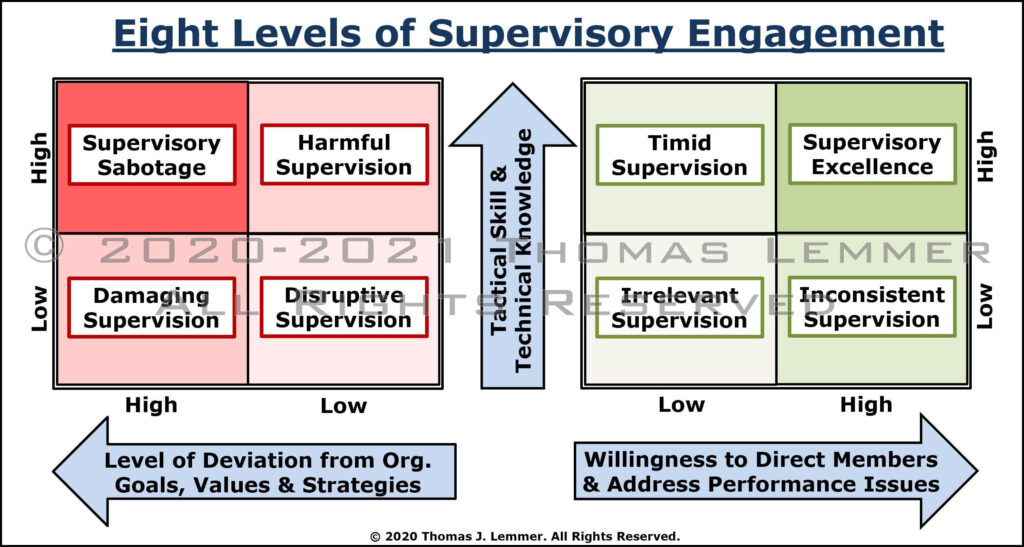 Once the eight engagement levels are understood, policing executives can either improve supervisory performance or mitigate the harm being caused by problem supervisors. Fostering supervisory excellence requires engagement by the responsible police executives, as well as their use of the model's 19 identified response strategies. We highly encourage all of followers to read the full Command Magazine article, Introduction to the Eight Levels of Supervisory Engagement.
Learn More About the Model
Law enforcement agencies and organizations can learn more about the Eight Levels of Supervisory Engagement, and how to successfully implement the corresponding response strategies, by scheduling a direct client training session. One-hour and 90-minute conference session versions, as well as half and full-day seminars are available options. To bring this insightful supervisory engagement training to your agency go to our training overview page for the model.
For access to more of our articles formally published in professional journals and magazines, visit our our published articles section.
---
We are interested in your thoughts, and invite you to comment below.