Officials have confirmed the murder of yet another Chicago Police Department (CPD) officer. The incident occurred about 1:45 a.m. today, 6 May 2023. The identity of the murdered female police officer was not initially released, but has since been confirmed as Areanah Preston. We join all those mourning her loss, most particularly her family. That is the most important part of this story. Lawlessness in Chicago remains a serious issue, and the city has lost another officer to violence. But, there is also another undercurrent worth noting. Even before linking to their reporting on the March murder of Police Officer Andres Vasquez Lasso, Chicago's ABC affiliate linked its readers to their article on the release of body camera footage in a completely unrelated police shooting. Media bias?
Estimated reading time: 6 minutes
Today's Shooting and Response
While details of the attack are still preliminary, it is clear Officer Areanah Preston was shot while she was returning home from work. The slain officer was assigned to the CPD's 005th District. The murder occurred in the 004th District near 81 Street and Blackstone Avenue. Interim Superintendent Eric Carter stated the officer had been a CPD member for three years, and other sources report that she was just 24 years old. Assisting officers had transported Officer Preston to the University of Chicago Hospital. Tragically, those efforts and those of hospital personnel were not able to save her life.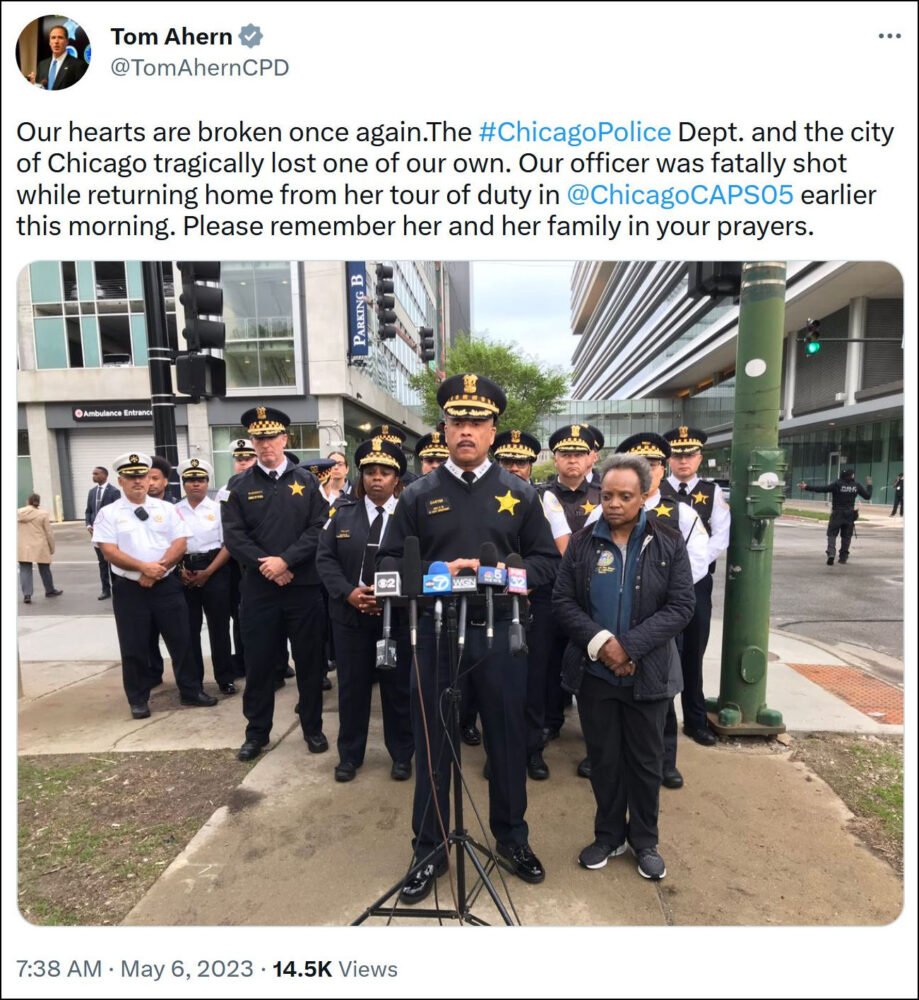 At a press conference outside of the hospital, Interim Superintendent Carter said that on-duty officers found the critically-wounded Officer Preston in response to an "alert of shots-fired." The officer had been shot multiple times, and twenty shell casings were reportedly found at the scene. Other sources have indicated that there was a ShotSpotter gunshot detection system alert at the location. Incoming Chicago Mayor Brandon Johnson has been among the justice reform activists critical of the city's ShotSpotter contract. Pressure on ShotSpotter regarding its system's cost and value caused the company to change its name to SoundThinking in April.
Mayor's Remarks to the Media
Outgoing Mayor Lori Lightfoot also spoke at the press conference. Beyond expressing her sorrow and support for slain Officer Areanah Preston's mother and family, the mayor spoke to the issue of unjust demonization of the police.
"There are some who say that our police officers are not worthy of our respect. There are some who say that we should not be supporting and funding our police department. I would urge any person who holds that view to reflect on moments like this."
She continued:
"As we walked across the street, I was reminded of the tragic death of Ella French, because she too was brought to this hospital. We gathered here with the media at that time. Our officers, and particularly our young officers, as this one was, give their life in service, understanding that this might be their fate. But, still they don a uniform everyday. They go out to protect us. They run toward danger every single day. The folks in this city, we need to do everything that we can to support our police officers. As the (interim) superintendent said, if you in your journeys today or tomorrow, or even the next day, you see an officer, thank them. Thank them, for their service, because they are deserving of our gratitude, but also they are deserving of our support."
ABC Chicago's First Story Link
We were disappointed to see how ABC Chicago presented their online article about today's murder of a Chicago police officer. Hyperlinked items are the expected norm in news media postings. The choice of which links to include, and how prominently those links are displayed are telling. While this was the city's second murdered officer this year, the first link was not to that story. Instead, ABC Chicago chose to highlight a different story and narrative.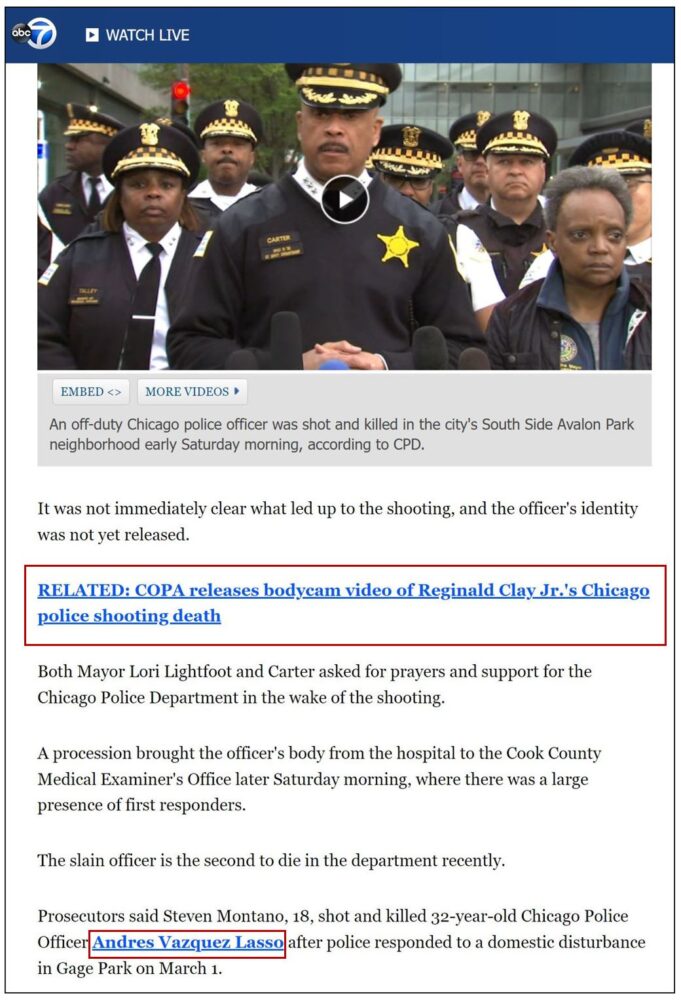 ABC Chicago made a conscious decision to highlight a police shooting that did not involve the slain officer. Additionally, the link was a text block insert, breaking into the flow of the article, and began with the misleading label of "RELATED." At a minimum, this media outlet's choice of which other news item to give a priority highlighting was insensitive to the Preston Family, the Chicago Police Department, and the policing profession. The chosen link also suggests a bias in ABC Chicago's reporting on violence directed at Chicago police officers.
Objective logic would suggest that the news item most directly related to today's incident was the most recent prior murder of a Chicago police officer. The March 2023 murder of Police Officer Andres Vasquez Lasso was not mentioned until four paragraphs further down in the article. What's more, in the hyperlinked text, ABC Chicago misspelled Officer Vasquez Lasso's name. Their reporting from last March has the spelling correct. Nonetheless, today's reporting by ABC Chicago does not reflect an attention to detail conveying a prioritized respect for these fallen officers.
Detectives Continue to Investigate
Anyone with information regarding this morning's shooting or the identifies or whereabouts of the offenders is urged to call the assigned detectives. Area Two Police Detectives can be reached by calling 312-747-8271. Information can also be provided anonymously via CPD's online tip site at CPDTip.com.
Prayers and Support
We remember scripture. "Blessed are the peacemakers, for they will be called children of God" (Matthew 5:9). We are grateful that Police Officer Areanah Preston chose to serve, swearing a sacred oath to defend the Constitution and to serve and protect others. We say today a special prayer for Officer Preston and her family. May God's loving peace be with them now. She will not be forgotten. Secure 1776 also expresses our thanks to all the members of the Chicago Police Department, and the entire policing profession for their work in advancing public safety.
We encourage your support for the Chicago Police Chaplains Ministry, and the Chicago Police Memorial Foundation and their work in support of Chicago's Gold Star Families.
---
We are interested in your thoughts, and invite you to comment below.