The Chicago Police Department (CPD) will take the lead in paying respects to slain Police Officer Areanah M. Preston. Sadly, the department has considerable experience in how to render honors to a fallen member. Police Officer Preston was the second CPD officer murdered this year. The pain of the loss of Police Officer Andres Vasquez Lasso is still raw. Areanah is due our respect for how she lived, and for her willingness to be a peacemaker. She and her family are owed our unending thanks and prayers for the cost she paid for being a police officer. We encourage all who can attend the wake or funeral to do so, and if you cannot, to at least pause, reflect, and sincerely pray for her and her family. But what else?
Estimated reading time: 6 minutes
"Blessed are the peacemakers, for they will be called children of God."

Matthew 5:9
---
Why Funerals?
Noted grief counselor Dr. Alan Wolfelt has observed that funerals convey our beliefs and values about life and death, both as individuals and as a community. He instructs that a funeral fulfills six key purposes. Acknowledging the reality of death. Arranging a venue for open expressions of grief. Providing an opportunity to share memories of the person who has died. Beginning the life after process for those suffering the loss. Providing time to contemplate and search for meaning about both death and life. Fostering the opportunity for others to provide support for the living who are mourning.
Wakes and funerals are also important for the living to both show their love and respect for the person who is no longer with us. In a free society, the line-of-duty death of a police officer, or other first responder, like the combat death of a member of the military, is of increased significance. Why? Because the work they performed came with increased risks, and it was carried out in our name as a community. Additionally, when that death occurs by means of an act of violence, that act is best understood to be an attack on the community as a whole. As a community, we have an obligation to honor heroism and sacrifice in our name.
Officer Preston Services Information
Chicago Police Officer Preston was murdered in the line of duty on 6 May 2023. Services in her honor will be held on Tuesday and Wednesday, 16 and 17 May 2023.
Visitation will occur on Tuesday, at the Blake-Lamb Funeral Home located at 4727 W. 103rd Street in Oak Lawn, Illinois. Viewing times for police officers are from 9:00 a.m. to 12:30 p.m. A private family viewing will take place from 1:00 p.m. to 3:00 p.m. A full community viewing will take place from 3:00 p.m. until 8:00 p.m.
An honors funeral will be held on Wednesday, at the Trinity United Church of Christ located at 400 W. 95 Street in Chicago. Services will begin at 10:00 a.m. Following the funeral, the interment will be held privately.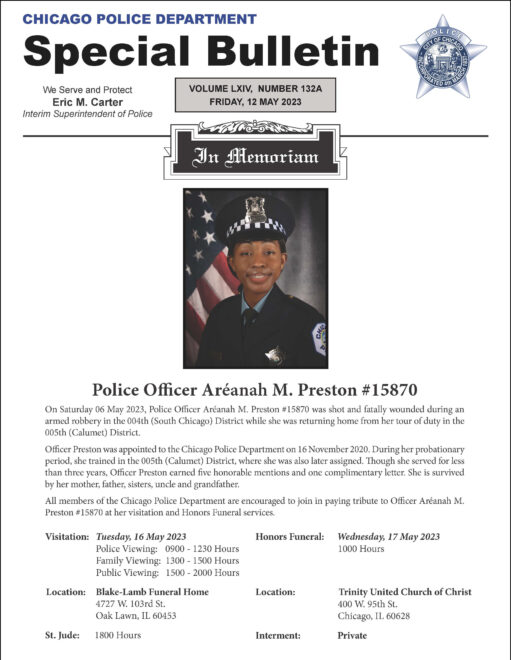 Prayers and Revival are Needed
Again, we ask all to pray for Areanah Preston. We pray for God's loving embrace and comfort for her family and all who love her. We pray for strength for her partners and fellow members of the policing profession. But, we urge you to pray as well for our community and nation. Evil has taken root in Chicago. Far too frequently, lawlessness is a problem in far too much of America. The bell tolls for more than this one peacemaker.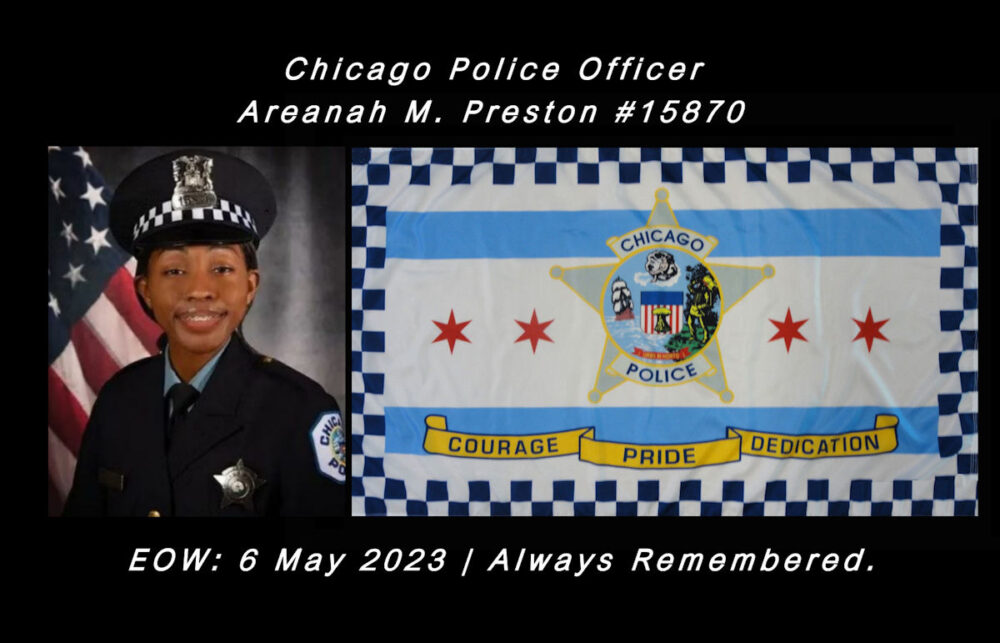 ---
The truth is that Areanah was targeted by multiple offenders in search of money for a barbecue. Not because the offenders were destitute and hungry, but because they wanted a party. They were more than willing to commit armed robberies to steal for their own enjoyment. Those same offenders had robbed others that very night, and each of them has an extensive history of offending. Three of those charged are now adults, not long past their days of offending as juveniles, with few legal consequences to themselves.
Robberies on the Rise
Robbery in Chicago has continued to be an escalating problem. As of the week ending 7 May, robberies in the city so far this year are up 17% from last year, and they are up 35% from the same period in 2021. Worse, when looking specifically at the 004th District, where Areanah was murdered, robberies year to date are up a staggering 80% from last year.
Another truth is this. While initially Areanah was just another unfortunate Chicagoan to be targeted by a teen robbery crew, as she returned home from work, that is not why her very life was stolen from her. She was murdered, because as the robbery unfolded, Officer Preston took action as a police officer to confront multiple offenders. In that act, she was seeking to defend more than herself. She stood in defense of her community and in defiance of evil.
There Are Always Consequences
We choose not to name those who would kill for barbecue money, here in a post sharing the memorial information for Officer Preston. But, one is age 18 and two are 19 years old. The fourth is still a juvenile, and is 16-years-old. We will mention, that politicians from Chicago have continued to lead efforts that have altered the Illinois Juvenile Court Act and criminal code in concerning ways.
Just days after the murder of Officer Preston, the Illinois General Assembly passed House Bill 3414. That bill was yet another measure seeking to shield juvenile offenders from the long-term consequences of their offending. The Illinois Juvenile Court Act has been the subject of constant attention and revision by activists. As with many such measures, the stated intention was to do good in support of delinquent youth. We support such efforts when they simultaneously advance the full purpose of the juvenile court system. Juvenile Court is supposed to simultaneously advance the best interests of the minor, holding them accountable for their actions, protect victims, and advance public safety. Clearly, Areanah's attackers were not sufficiently redirected by the new juvenile court process that has developed in Illinois over the past decade.
Here is the hard truth about consequences. When the consequences of serious, violent, and chronic delinquency are not adequately addressed in the juvenile justice system, those consequences shift to the streets. With respect to four offenders, those consequences erupted in the gunfire stealing the life of a Chicago peacekeeper.
The murder of Officer Preston is yet another stark reminder that Chicago and our nation are in need of revival.
---
"If my people who are called by my name humble themselves, and pray and seek my face and turn from their wicked ways, then I will hear from heaven and will forgive their sin and heal their land."

2 Chronicles 7:14
Thanks, Prayers and Support
We are grateful that Police Officer Areanah M. Preston chose to serve, swearing a sacred oath to defend the Constitution and to serve and protect others. We pray for her and her family. May God's loving peace be with them now. She will not be forgotten. Secure 1776 also expresses our thanks to all the members of the Chicago Police Department, and the entire policing profession for their work in advancing public safety.
We encourage your support for the Chicago Police Chaplains Ministry, and the Chicago Police Memorial Foundation and their work in support of Chicago's Gold Star Families.
---
We are interested in your thoughts, and invite you to comment below.