The 28th Annual Breaching the Barricade Law Enforcement Conference will be held on 30 September 2022, at the Lerner Theater, in Elkhart, Indiana. The conference and its companion Officer Appreciation Day are premiere industry events made possible by the vision, work, and mentoring of Jim Bontrager. The appreciation day event will be held in Sturgis, Michigan on Saturday, 1 October 2022. A U.S. Marine veteran, Jim is a long serving lead police chaplain for the Elkhart Police Department. At Bontrager's invitation, Thomas Lemmer will be presenting again at the conference.
Estimated reading time: 3 minutes
Lemmer Presenting Two Training Sessions
First, on the main stage, Lemmer will engage the conference's participants with a new presentation entitled: "So you ask yourself; Why Me? Why Now?" Even in the midst of adversity, across this nation, police officers, deputies, and state troopers continue to secure the safety of their communities. Consistent with our constitution, they defend individual liberty and protect civil liberties. The session will help our officers both better understand this moment of challenge facing their profession, and help them embrace why each of them has a critical role in restoring public safety across America.
In a breakout session, Lemmer will provide an introduction to his Eight Levels of Supervisory Engagement Model. A fundamental truth of organizations, including law enforcement agencies, is that underperforming and problem employees exist. When the underperforming or problem employee is a supervisor, the need for the organization to respond is elevated. This is true even when supervisors are merely ineffective, as ineffective supervisors foster a less effective workforce. However, the impact on the agency is even worse, when supervisors do not support the organization's values, goals, and strategies. Encouraging excellence among our police supervisors is essential to rebuilding the agencies needed to move the profession forward.
View our promotional video below and then register for the conference.
The Breaching the Barricade Conference is highly-recommended. Go to the conference website to learn more and register.
Eight Levels of Supervisory Engagement
Effectively addressing problematic and deficient supervisors is advanced through this executive-level training. Half-day and full-day seminar versions of this course are among the options nationally for law enforcement agencies and associations. Learn more about our supervisory engagement course offerings, and how to bring this training to your agency, by going to our course overview page for this training.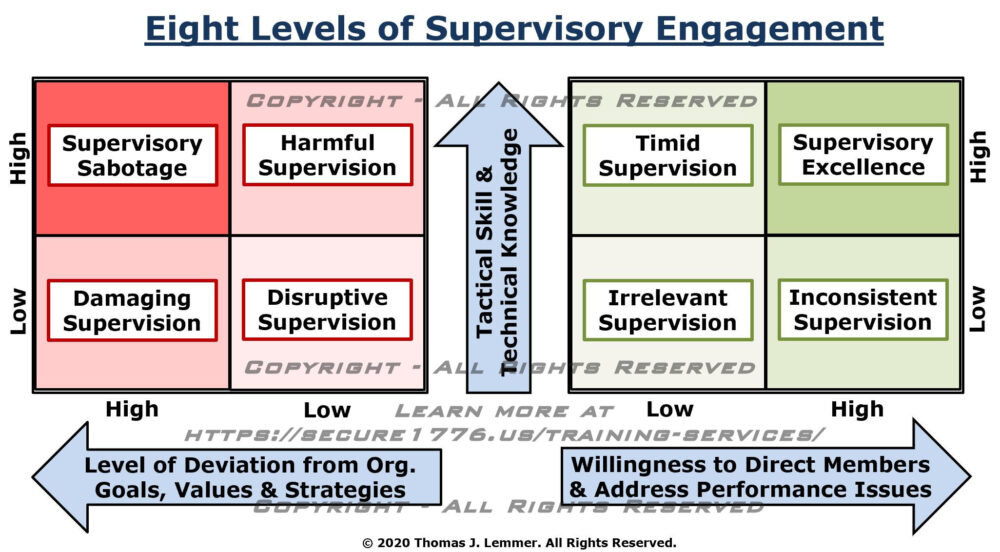 Our Services
Secure 1776 – Public Safety Professional Resource, LLC also provides several client training, consulting, research, and analytical service options. Core areas of expertise include community policing, juvenile crime, gangs, violence, patrol operations, police and public safety policy development, internal investigations, supervisory engagement, and management accountability. Go to our Training and Consulting Services Tab to learn more about how we can assist your agency.
---
We are interested in your thoughts, and invite you to comment below.