The International Law Enforcement Educators & Trainers Association (ILEETA) is holding its 20th annual conference in St. Louis. This year the conference will be held from 20 thru 25 March 2023. Our founder, Thomas Lemmer, will be presenting two sessions of his newest course offering, Police Policy Principles and Training. Without question, highly-effective police organizations establish and adhere to sound policies. When they do so, those agencies can more readily and simultaneously ensure constitutional policing, enhance public safety, and foster officer wellness. To be sound, their policies must meet the essential police policy principles identified in the model. Highly-effective police agencies then also ensure that their policy implementation and training program efforts are coordinated efforts.
Estimated reading time: 3 minutes
Policy and Training
Lemmer advises that good policies are critical to the effective operation of police agencies. Bad policies can cost millions in civil damages, litigation defense, and remediation efforts. Bad policies can cost lives and undermine an agency's public safety mission.
As an additional training resource, Lemmer prepared an article to serve as a training supplement. The article, also entitled, "Police Policy and Training," was published in the March 2023 issue of the ILEETA Journal.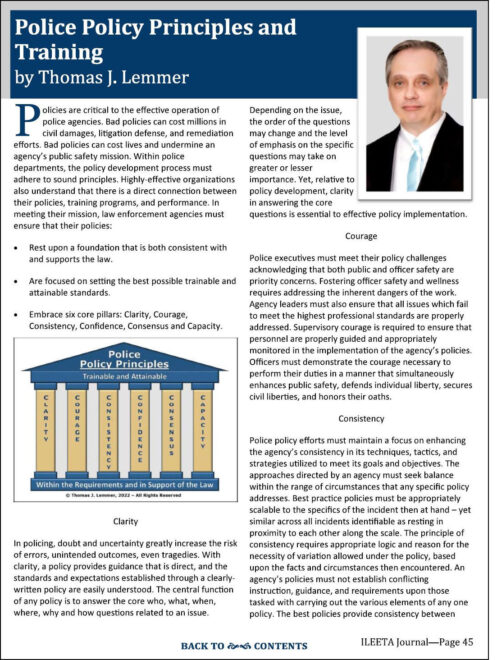 In the article, Lemmer provides a concise summary of his Police Policy Principles model. That article can be accessed here.
Through the model, law enforcement agencies are provided key guidance on how they should approach and evaluate their policy development efforts. In meeting their mission, police agencies must ensure that their policies advance and adhere to three core principles.
First, their policies must rest upon a foundation that is both consistent with and supports the law. Secondly, they must be focused on setting the best possible trainable and attainable standards. Third, they must embrace six core pillars: Clarity, Courage, Consistency, Confidence, Consensus and Capacity.
Through the training presentation on the policy principles model, additional insights are provided. Those include how the training development process can help to identify policy issues, gaps, and inconsistencies. Again, if a policy is not effectively trainable, it is not likely to be operationally attainable. These additional insights and guidance are helpful for agencies seeking to build a highly-effective organization.
To learn more about this model, read our training insight, The Essential Police Policy Principles.
More on the ILEETA Conference
Each year, the ILEETA Conference & Expo is the largest gathering of law enforcement trainers in the world. The conference is a unique experience, and it is focused on law enforcement training personnel. Making use of five full days, the conference offers more than 150 training classes, including hands-on, classroom, certification and live fire courses. Here, Scott Buhrmaster of Calibre Press provides a quick overview as to what makes this conference a "go to" event.
Are you interested in attending the conference? There is still time to register. While registration is restricted to ILEETA members, you may apply for membership and register at the same time. Click here for the link to the conference registration page.
Bring Our Training Directly to Your Agency
Does your agency need help in this area? You can bring this training seminar directly to your agency, anywhere in the United States. To begin that process, simply complete the contact form on our services main page.
Learn more about all of our courses and consulting services options by going to our Training and Consulting Services main page.
---
We are interested in your thoughts, and invite you to comment below.