To say that we are living in interesting, and challenging times is an understatement. Many elected officials across America have demonstrated confusion regarding the proper public safety role of the police. Many have advocated for the police not to be utilized for mental health or social service issues. Some public officials have changed laws and policies limiting the authority of the police to enforce numerous offenses within traffic and even criminal codes. Others have advocated that such enforcement should be limited to issuing citations only, without the use of physical arrests and absent any use of force. So, how does this viewpoint square with using the police for pandemic restrictions enforcement? From a logic standpoint, the two approaches really do not square up well.
Estimated reading time: 17 minutes
The Not Short-Term Emergency
In most counties around the world, lockdowns were an early "emergency response" to the Covid-19 pandemic. Such was also the case here in the United States. However, responses that began in early 2020, on the premise of "15-days to flatten the curve," lost public support when they lingered on for months without a clear end. As the pandemic moved into its second year, the efficacy of the various public health responses have increasingly been called into question.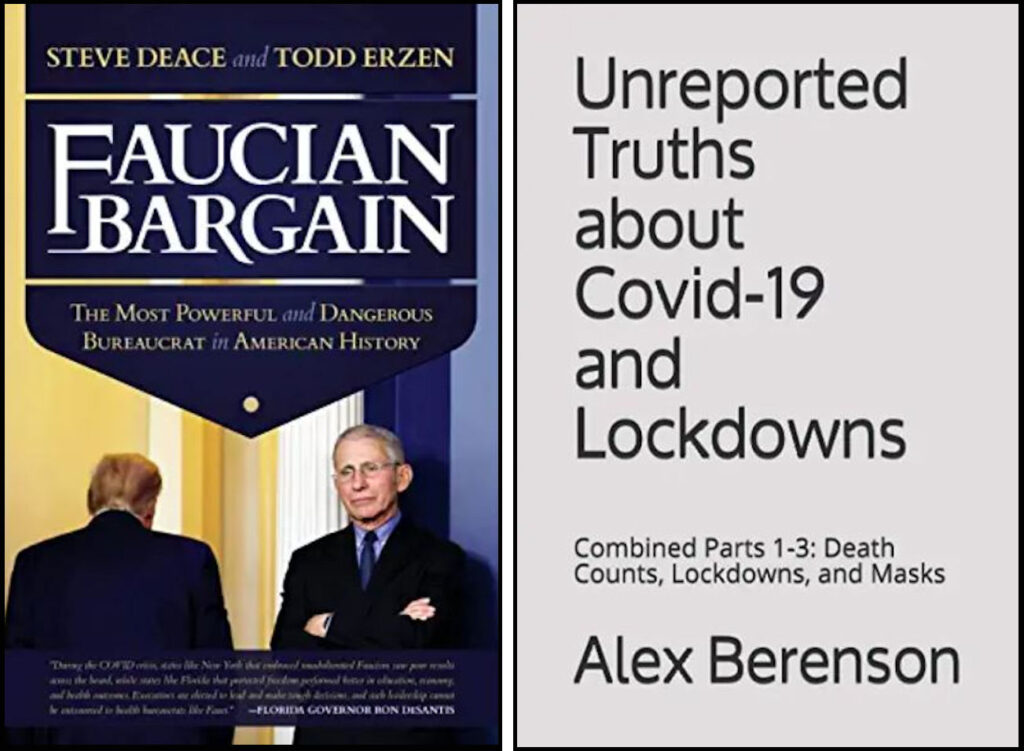 Our purpose in this posting is not to debate the effectiveness of lockdowns, masks, or vaccines in addressing Covid-19. For such a discussion, Secure 1776 refers our readers to the multi-volume writings of journalist Alex Berenson entitled, "Unreported Truths about Covid-19 and Lockdowns." We also point readers to the extensively-sourced book, "The Faucian Bargain," by Steve Deace and Todd Erzen.
Our question is specifically tied to public safety from the policing perspective. Do lockdowns and other pandemic response enforcement efforts have an impact on the police-community relationship? The answer, as we will highlight, is absolutely.
Growing International Resistance to Lockdowns
We are often told about policing approaches in other countries. Usually the implied assessment is that policing elsewhere is "better" than here in America. Relative to pandemic restrictions enforcement, we should take note of the lesson being taught in Australia, the Netherlands, France, Italy, Paraguay, Canada, Great Britain and elsewhere. Using the police as the "muscle" in carrying out restrictive policies can put the larger police-community relationship at risk.
This is particularly true when the policies: (1) have been issued without much public input, and (2) infringe on the liberties of individual citizens for extended periods. Such would include far-reaching restrictions, imposed by previously unknown bureaucrats, that alter everyday-life and are far from momentary.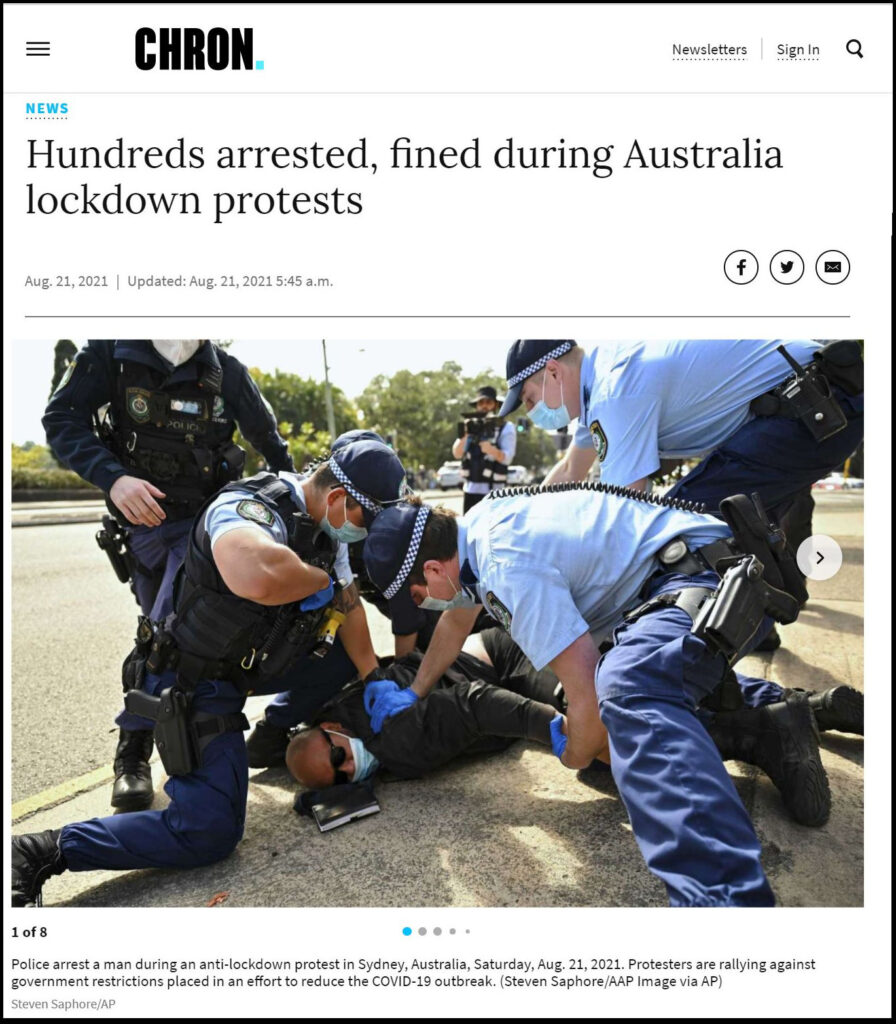 Australian Lockdown Conflict
On 21 August 2021, thousands of Australians protested in several "down under" cities seeking the end of highly-restrictive lockdowns that have been imposed by public health officials and backed by elected leaders.
Having grown weary of a series of extended lockdowns dating back to last year, protesters shouted for "freedom." It bears noting that while Australia is currently experiencing an increase in COVID-19 cases, overall the nation has had comparatively few deaths. Since the start of the pandemic, and as of 25 August, Australia has experienced just 4 deaths per 100,000 people. By comparison, the U.S. is recorded as having 192 deaths per 100,000 people.
In June 2021, Professor Gigi Foster, from the Business School at the University of New South Wales, wrote on the "hidden costs" of her nation's lockdowns. She discussed economic costs, including job losses, closure of small businesses, as well as mental health concerns and isolation, the impact on children, and increased deaths due to absent or delayed healthcare for other (including left undetected) illnesses. On the Monday following a weekend of protests, Reuters quoted Australian Prime Minister Scott Morrison as saying that the lockdowns: "cannot go on forever." He added: "This is not a sustainable way to live in this country." Secure 1776 contends that the "hidden costs" of the pandemic can include damage done to the police-community relationship and overall public safety.
As reported by Australia News 9 and other sources, the protests this past weekend included several violent clashes with the police. Australian police made more than 250 arrests for violations of the current lockdowns in Sydney, Melbourne, and other cities. At least six police officers were hospitalized for injures suffered during clashes with protesters. Sydney has been in lockdown for more than two months. Melbourne and Canberra, Australia's capital city, have been in lockdown since early August. As depicted in the news video, such lockdown clashes weaken the police-community relationship that is essential to overall public safety.
Lockdown Unrest in the Netherlands
Resistance to lockdowns has been observed for several months in several other countries. The Netherlands is not a place known for the social unrest that leads to rioting. On the last weekend in January 2021, lockdown resistance in the Netherlands led to three days of protests. The protests escalated into violent clashes with riot police.
Vox quoted Laura Groenendaal, a researcher based in the Netherlands, as saying: "Normally we say that the Netherlands are blissfully boring, so this is, of course, the complete opposite." Groenendaal described the protests against lockdowns in January as the Netherlands' "largest riots in 40 years." Police made nearly 5,000 arrests during the weekend clashes.
Reuters reported that protesters in Amsterdam were observed carrying signs reading "Freedom: stop this siege," and they were heard chanting "What do we want? Freedom!" Quoting a report from Global News: "Anti-lockdown riots continued for a third night in parts of The Netherlands on Monday as people took to the streets once more over various measures imposed to combat a new wave of COVID-19."
Anger in Europe and South America
The issue is not one unique to Australia or the Netherlands. Pandemic-related protests and clashes with police began to emerge last year in several countries. A scan of international news feeds shows lockdown and other pandemic response protests have continued.
The New York Times reported on violent protests in Paraguay during March 2021. Quoting: "Security forces used rubber bullets and tear gas against demonstrators in the capital as fury rose over the government's handling of the health crisis." Public anger over the government's response to the pandemic resulted in the resignation of the Paraguay's health minister, Julio Mazzoleni.
The Epoch Times reported that on just one day, 24 July 2021, there were anti-lockdown and anti-vaccine-passport protests throughout Europe. Quoting: "Thousands upon thousands of demonstrators came out in London, Dublin, Paris, Rome, Athens, and other cities across Europe." The protests turned into clashes with police in several cities.
The Washington Post reported on protests in France. More than 3,000 police and security force members were deployed to quell protests in that nation's capitol. Quoting: "Police in Paris used tear gas Saturday (July 31st) as thousands of protesters joined marches to denounce plans for vaccine 'health passes'." The Associated Press (AP) reported that protesters in Paris numbered more than 14,000. Quoting from the AP: "Lines of police faced down protesters in up-close confrontations during the march. Police used their fists on several occasions." Police were pelted with objects and responded with tear gas and the use of water cannons. Across France, more than 200,000 people participated in the July 31st protests.
The protests in France have continued throughout August 2021, with PressTV reporting 175,000 people protested across France just this past weekend. Quoting: "Some protesters wore yellow stars in order to compare the 'health pass' to the (Stars of David) the Jews were notoriously forced to wear by the Nazis during World War II."
There was unrest over lockdowns and vaccine passports in Germany as well. The Federalist reported that on 1 August 2021 there were large-scale protests in Berlin . More than 2,000 German police officers were deployed, with more than 600 protesters detained.
It's Not Just the Protests
While protests that turn into violent clashes are a significant concern, they are not the only risk to the police-community relationship. Policing is an activity that occurs most often in much smaller encounters. Officers regularly interact with individuals and small groups of citizens. These encounters can live on by word of mouth from citizen to citizen.
When those interactions are positive, trust can be built at a wider level across the community. However, negative encounters can be amplified more quickly, travel deeper into the psyche of the community, and if left unaddressed, linger for years. Worse, like a cancer, the damaging effects can remain hidden, leaving a false image of health. In policing, such is a particular risk when enforcement actions prevent the free exercise of rights drawn from deeply held beliefs.
Lockdowns and Religious Gatherings
For people across the world, matters of faith are among their most firmly held beliefs. America's founding was greatly influenced by the belief that the exercising of religious freedom should be without government interference. Our nation throughout its history has been a beacon of hope for people fleeing religious persecution elsewhere. However, pandemic restrictions here in the United States, and elsewhere around the world, have infringed on the full exercise of religious liberty.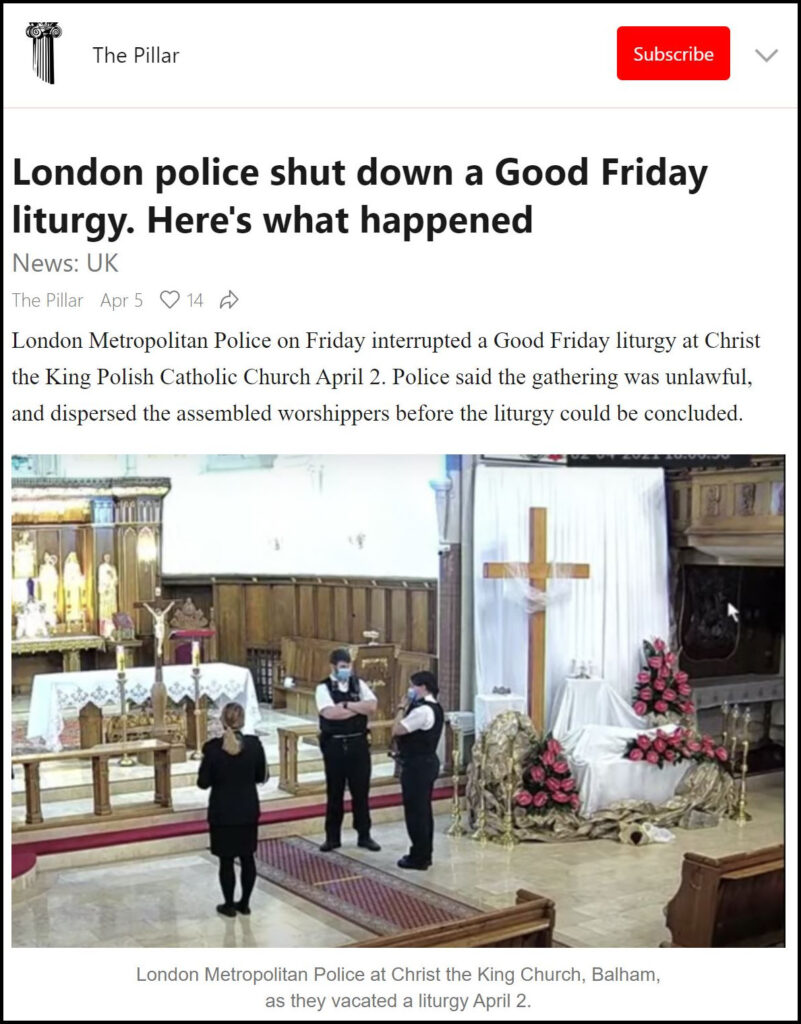 Good Friday 2021 in London
On 2 April 2021, police in London interrupted the Good Friday services at Christ the King Polish Catholic Church. Police officers stood in front of the alter, declared the services to be "unlawful," and ordered those present to return to their homes or face citations and fines. The congregation was also told that they faced arrest, if they did not comply and did not cooperate with the issuance of a citation. The church members present submitted to police authority, and no citations were issued and no arrests were made. It remains to be seen what long-term memories about the police were created in those moments.
The Pillar reported that prior to Easter weekend the London Metropolitan Police "warned" the public not to violate Covid-related restrictions. According to a statement released by Metropolitan Police, the police officers who entered Christ the King Church had responded to complaints of a prohibited gathering.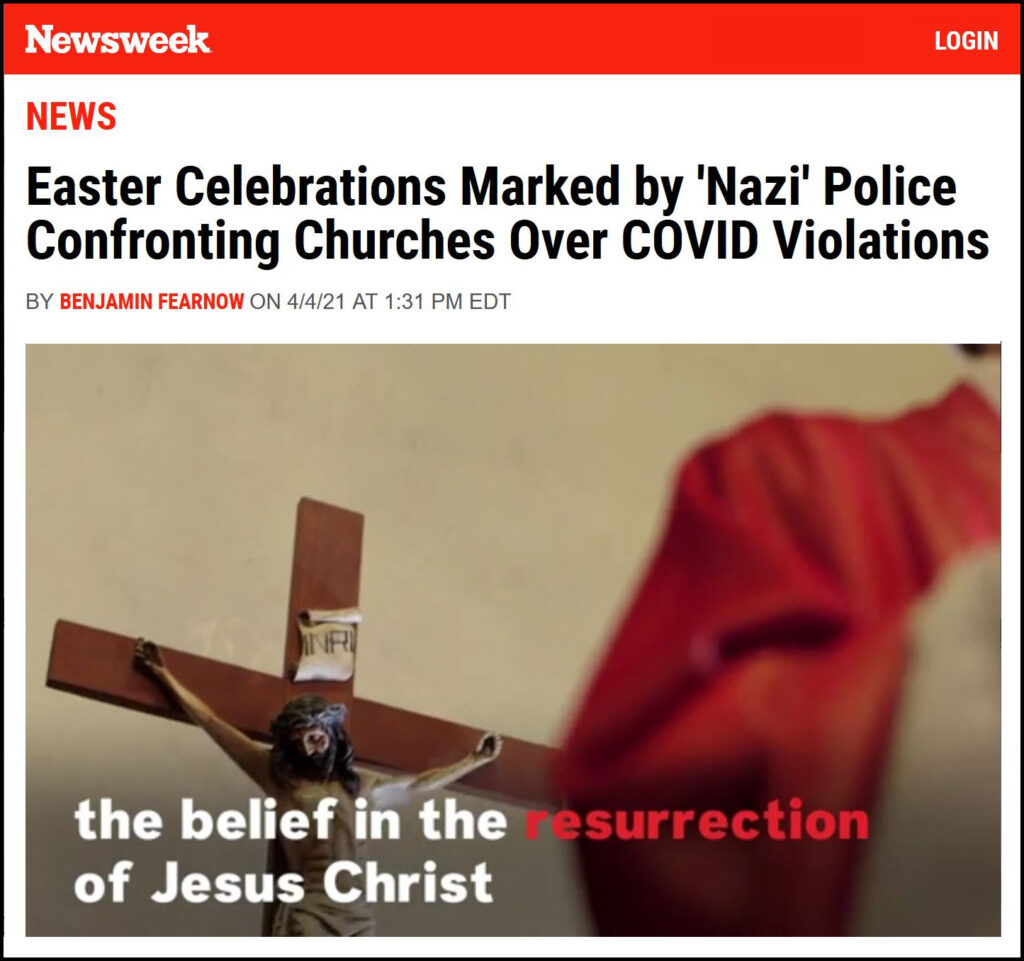 Holy Saturday 2021 in Alberta
On 3 April 2021, six police officers entered into Street Church in Canada's Alberta Province with a public health inspector. Newsweek reported that the police were being utilized to close the Passover services at the church. The health inspector and police were met by Pastor Artur Pawlowski as they entered the sanctuary. The pastor angrily instructed that without a warrant they were being denied entry. He repeatedly ordered the police and inspector to leave the church.
As depicted in a video the pastor later posted on the internet, the encounter was dramatic. As reported by Newsweek: "'I don't care what you have to say, out!' the pastor can be heard yelling back at the officers who were attempting to disperse members inside the Alberta church Saturday evening. 'Out of this property, you Nazis. Out! Gestapo is not allowed here. Do not come back, you Nazi psychopaths. Unbelievable sick, evil people. Intimidating people in the church during the Passover. You gestapo Nazi communist fascists!'" There is really no harsher criticism of government officials and police officers than to compare them to the gestapo.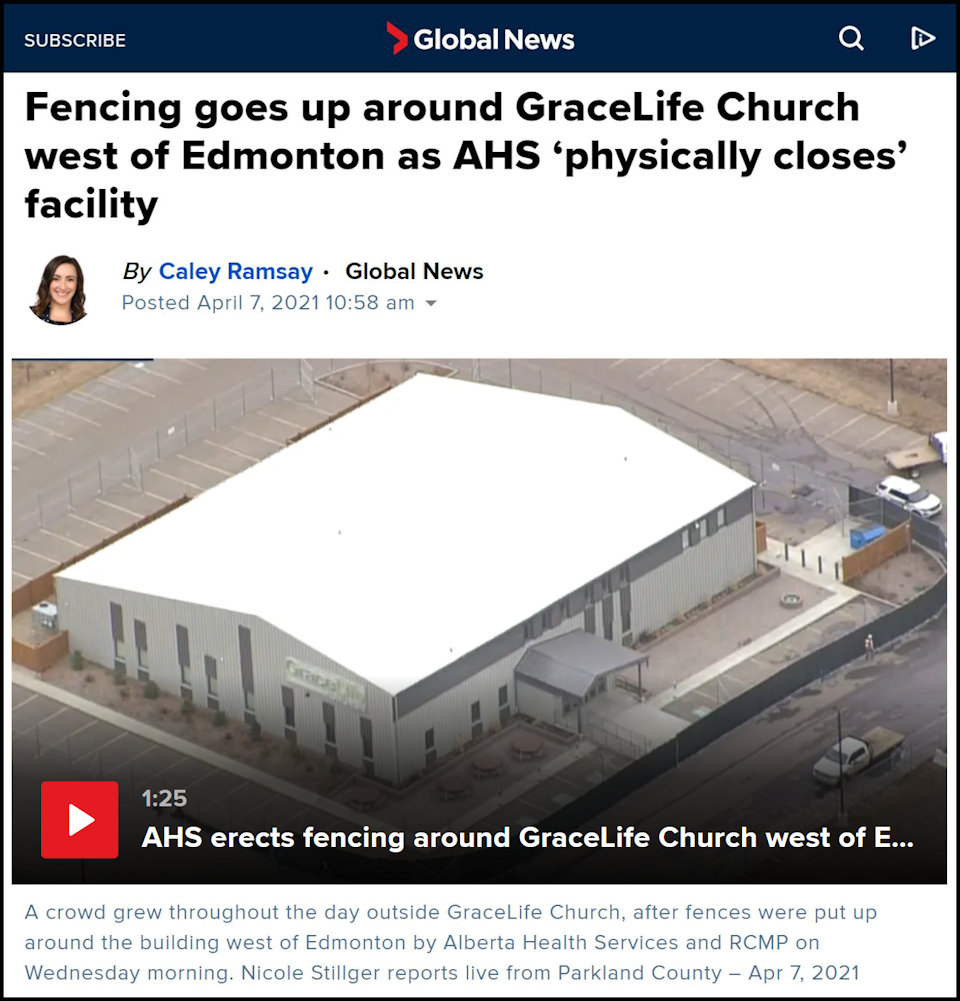 Surrounding a Church in Alberta
Over the course of the pandemic, Alberta Health Minister Tyler Shandro issued several Covid-19 public health orders that applied to churches. In April 2021, face masks were mandatory and churches were restricted to 15% of their capacity. As reported by Global News, the church had been at odds with Alberta's public health restrictions going back to December 2020. In March 2021 Pastor James Coates was arrested and jailed for Covid-19 violations. His services at the church were reported as exceeding the 15% capacity limitation. There were also allegations concerning physical distancing and the wearing of face masks.
Pastor Coates spent 35 days in jail. After pleading guilty and paying a $1500 fine, for violation of a bond restriction prohibiting additional non-compliant services, Pastor Coates was released from custody. A trial for the original Covid-19 violations was scheduled for May 2021. Before that time, Pastor Coates made clear that he intended to continue holding full services. In response, Alberta Health Services ordered a blockade of the church. That agency issued the following statement: "Alberta Health Services physically closed GraceLife Church and has prevented access to the building until GLC can demonstrate the ability to comply with Alberta's chief medical officer of health's (CMOH) restrictions."
Using the police to facilitate the physical blockade of a mainline church, in a "free" nation, is always going to be a controversial move. While a public health official made the decision, to in essence seize a church from its pastor and congregation, the police became the muscle and face of that government action. The church community and others took note. Stung by criticism, representatives of the police echoed a "we're just doing our duty" response. Professor in Justice Studies Doug King, from Mount Royal University, provided some context in a City News (Edmonton) interview. He was critical of the lack of clarity being provided by local officials on the proper role of the police in enforcing public health orders.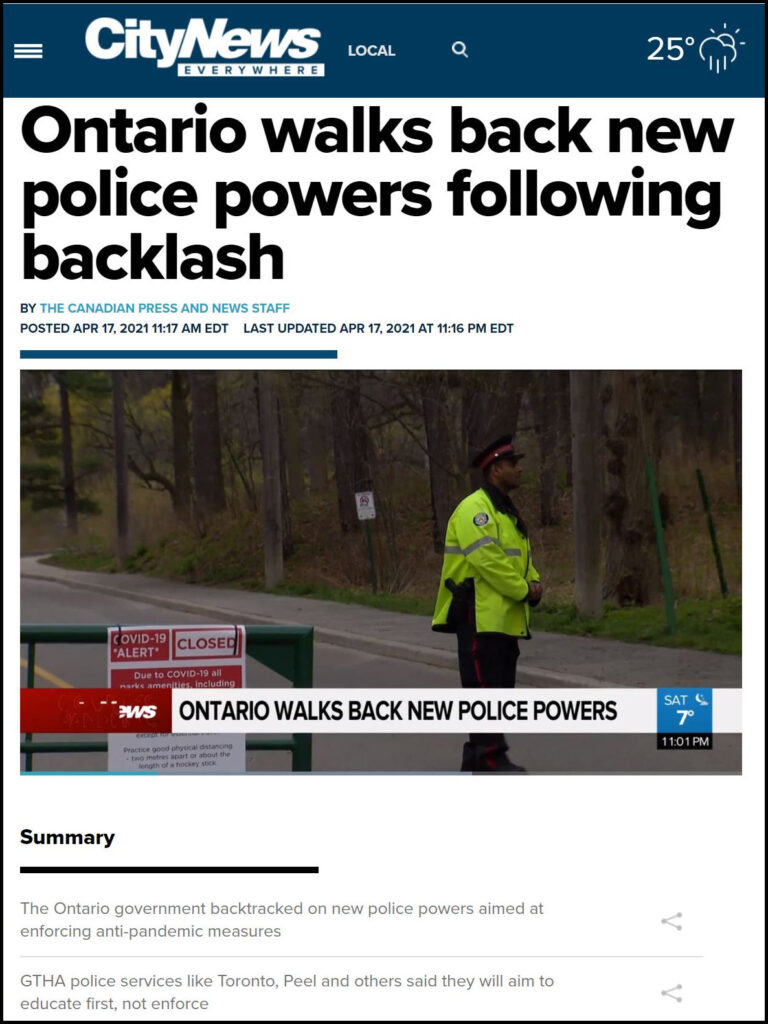 Stopping Anyone Out in Public?
On 16 April 2021, yes 2021 and not 2020, the Province of Ontario, Canada sought to dramatically alter the ability of citizens to be away from their homes. Premier Doug Ford had issued an order allowing police to stop any pedestrian or vehicle, and to question all persons as to why they were not at home. Criticism from civil rights advocates and members of the public was immediate. The Canadian Civil Liberties Association objected to the overreach in police authority, citing the potential for discrimination, and they threatened legal action. Concerned about the potential damage to police-community relations from such policing activities, several police agencies in Ontario quickly released public statements indicating that they did not intend to exercise such broad authority.
Toronto Police were among those agencies distancing themselves from the decree. They tweeted that their officers would not be doing random stops of people or cars to enforce Covid-19 restrictions. The Durham Regional Police, as well as police in the cities of Ottawa, Thunder Bay, Windsor, Kingston, and Stratford issued similar statements. As reported by City News (Toronto), Premier Ford's order was reversed the next day after what had been "swift and furious backlash." Ontario's Solicitor General Sylvia Jones announced that the revised order limited the Covid-19 police authority to stopping those people believed to be participating in an "organized public event or social gathering." The revised order continued to reflect Ontario's strict limitations on the right of citizens to freely gather in public.
More on Just Being in Public Spaces
Similarly, in Derbyshire, England, police received severe criticism for interfering with Britons seeking to simply walk or exercise in a well known rural area. On 31 March 2021, the BBC reported that police there sought to harass and shame people "who headed to the beauty spot amid a UK-wide lockdown." Police activities reportedly included using drones to monitor and film hikers. The BBC quoted a former UK Supreme Court Judge, Lord Sumption, as calling the police action "disgraceful" and beyond their proper role.
According to the BBC, Derbyshire Chief Constable Peter Goodman "admitted" that the police have "no power to stop people going walking in the country." The chief constable also expressed some hesitation about policing during the pandemic. He was quoted as saying that his officers: "never expected to be asked by the government to play the role that we're playing."
These frustrations were reflected in an April 2021 report issued by an oversight body known as "Her Majesty's Inspector of Constabulary and Fire and Rescue Services" (HMICFRS). The organization reviews how well British police do their work. As reported by the BBC, the HMICFRS determined that police officials often learned about new government Covid-19 edicts from the news media. The assessment also found that British police struggled with a "lack of clarity from ministers" who set the pandemic response restrictions. The HMICFRS determined that the resulting mistakes in enforcement efforts put public confidence in the police at risk. They cautioned against actions that lead the public to see the police as "coercive agents of (government) ministers."
American Officials Must Heed These Lessons
Without question, police agencies internationally are under tremendous pressure. Not only are police officers facing their own elevated health risks from the pandemic, the very legitimacy of the policing profession has been under attack. This is no less true in America. Since early 2020, not only have the nation's police officers needed to personally meet the increased health risks that come with the pandemic, they have had to respond to long periods of civil unrest, and rising violence.
Secondly, as the pandemic is in its second year, our public officials should take note that the near future is not likely to be Covid-free. Even casual observation has shown that the number of infections rises at various times of the year. In all likelihood, there will be an increase in cases as winter returns to America. Yet, they should also take note that death rates are nowhere near where they were at the onset of the pandemic. "Herd immunity," both natural and via vaccines, has continued to grow. Treatments have improved. Additionally, across the global, populations have begun to learn how to "live" with the virus.
Yet, we also know that an eradication of Covid-19 is not imminent. As such, it is vital that our elected leaders and public officials take note of another key lesson from the pandemic. How governments respond to the pandemic is not just a matter of public health. There are significant social and economic consequences to highly-restrictive response strategies. Most importantly, the very fiber of what it means to live in a free society has been impacted by several responses to the pandemic. Further, it must be clearly understood that damage to the police-community relationship can occur when the police are the face of pandemic restrictions enforcement.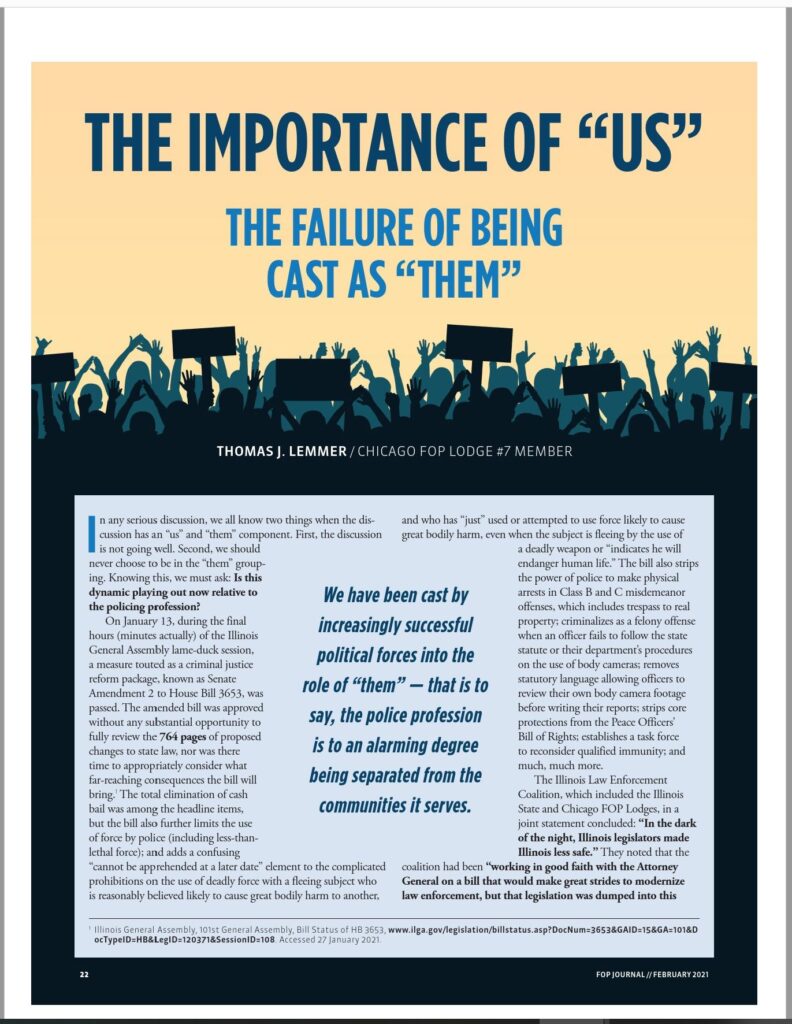 In February 2021, Thomas Lemmer wrote of the "Importance of 'us,' and the failure of being cast as 'them'." In a free society, the policing profession cannot meet its public safety mission without community support. When the police are seen by the public as being "them," bad things happen. During 2020, the year like no other, we saw dramatic evidence that when the bond between the police and the communities they serve is weakened, crime and violence increase.
Without question, a strengthened police-community relationship requires a belief within the community that police authority is being used legitimately. Maintaining legitimacy must be an ongoing priority, as it is a key to ensuring both public safety and that our individual liberties are protected. Controversial actions that lack broad support in the community work against police efforts to maintain their legitimacy.
We have seen during the pandemic a new layer of challenges for our police officers. When pandemic restrictions are viewed as being illegitimate, anger over the restrictions can quickly transfer over to the police. Such is true even when it is only a sizable minority of the community opposing the restrictions.
This is the key lesson Secure 1776 hopes that our nation's leaders heed. None of the pandemic response strategies have operated in isolation. Yes, many responses to the pandemic have helped safeguard public health with respect to the virus. However, they have also impacted the world economy, crushed the finances of countless individuals, altered everyday life, reduced the quality of shared experiences, and at times placed the police into conflict with many within their communities.
As our nation's elected leaders and public officials continue to respond to the pandemic, Secure 1776 reminds them to choose wisely. The stakes involved are far more than the health risks from a virus.
---
We are interested in your thoughts, and invite you to comment below.

Copyright Protected | (c) 2021 Secure1776.us – All rights reserved.