Yesterday we posted on how national polling found that Americans believe crime is out of control, and how some "reform" efforts have left many Americans feeling less safe. A WGN News/Emerson College poll released today reminds us that all crime is local, with 61.8% of Chicagoans believing crime is worse this year than last. When it comes to murders and shootings, they are right. It bears noting that 2020 was a particularly violent year in Chicago, with 3,260 shooting incidents, 4,033 shooting victims, and 769 murders. From 2019, shooting incidents in 2020 were up 51.9% and murders were up 55.4%. The WGN poll also provides another Hadleyville warning sign for Chicago.
Estimated reading time: 5 minutes
Last week we posted on the murder of Chicago Police Officer Ella French and the life-altering wounding of her partner, Police Officer Carlos Yanez, Jr. Since then, even before Chicago has held its honors funeral for Officer French, the city has had another violent weekend. Gunmen roamed the streets of Chicago yet again, shooting 55 people and murdering six, including a seven-year-old child. Then, before dawn on Monday, a 70-year-old woman was murdered in her car as she waited to go to work. What does this mean? It means that our continuing question on whether Chicago is becoming a "Hadleyville" remains an active concern.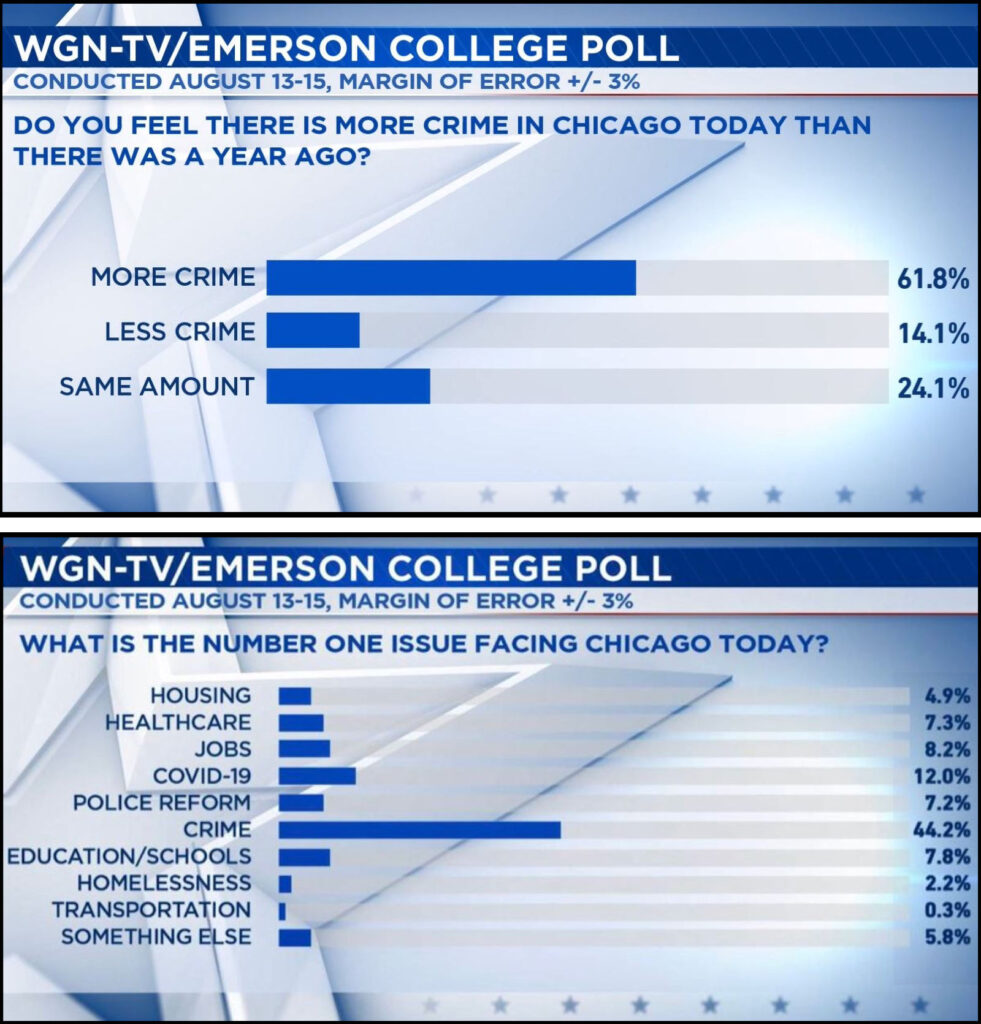 Just 14.1% of survey respondents indicated that they believed that there was less crime in Chicago as compared to 2020.
"Crime" was by far the leading concern that Chicagoans listed as their "Number One Issue," among nine specific issues, and a tenth catchall response of "something else."
Crime was cited more than three-and-a-half times more often than the second highest concern, COVID-19.
Additionally, crime was the leading issue for more than six times as many Chicagoans, as compared to "police reform," which ranked fifth among the listed concerns.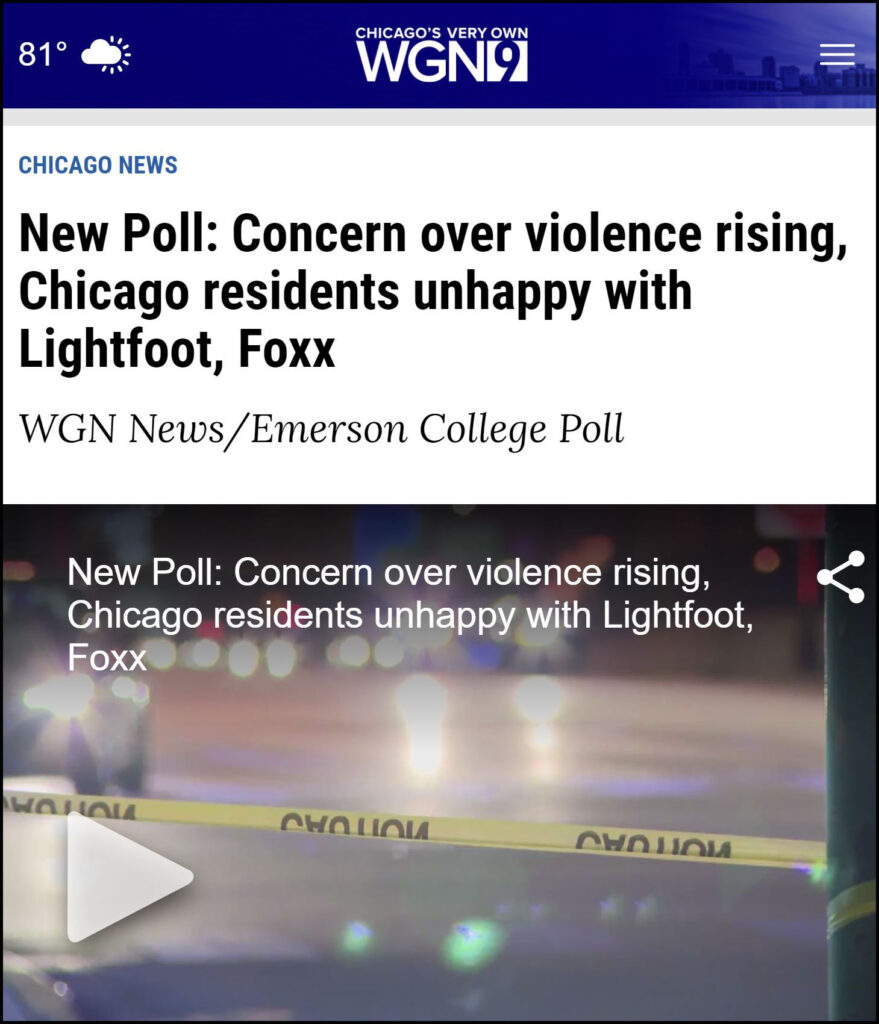 More on What Chicagoans Said in the Poll
In the WGN poll, Chicagoans expressed the following concerns:
When considering the type of crime of most concern, 87.1% of respondents cited violent crime as the greatest concern.
Relative to carjackings in Chicago, 78% of respondents expressed they had "a fair amount" or "a great deal" level of concern about being a carjacking victim. Only 7.2% of respondents said they were "not at all" concerned about carjackings.
77.7% of the respondents stated that crime should be a top priority for Chicago's leaders.
Chicagoans have concerns about the pre-trial release of individuals charged in gun crimes:
70.4% of the respondents opposed the release on electronic monitoring of persons charged with gun crimes. Cook County State's Attorney Kim Foxx is an advocate of this practice and cashless bail overall.
By way of reminder from yesterday's post on the recent Rasmussen poll, nationally pre-trial release is a concern. 73% of the Rasmussen respondents believed that letting accused violent criminals out of jail without bail, while they await trial, increases violent crime.
In looking at the WGN poll's assessments of the police, the city's mayor, and the county's prosecutor, respondents expressed disapproval of their elected officials, and support for the police:
69.8% of respondents held a "somewhat" to "very" positive view of the Chicago Police Department.
42.5% "approved" of the job being done by Chicago Mayor Lori Lightfoot.
Just 34.7% "approved" of the job being done by Cook County State's Attorney Kim Foxx.
However Another Hadleyville Warning Sign
In a Hadlelyville warning sign, 21% of respondents nationally in the Rasmussen survey stated they have recently considered moving because of violent crime in their area. Why? Because crime is out of control in far too many communities. Such is the case in Chicago. In the WGN poll, respondents were asked a key question about moving. 65.2% of respondents indicated that they would consider moving out of the city, if Chicago's gun violence continues.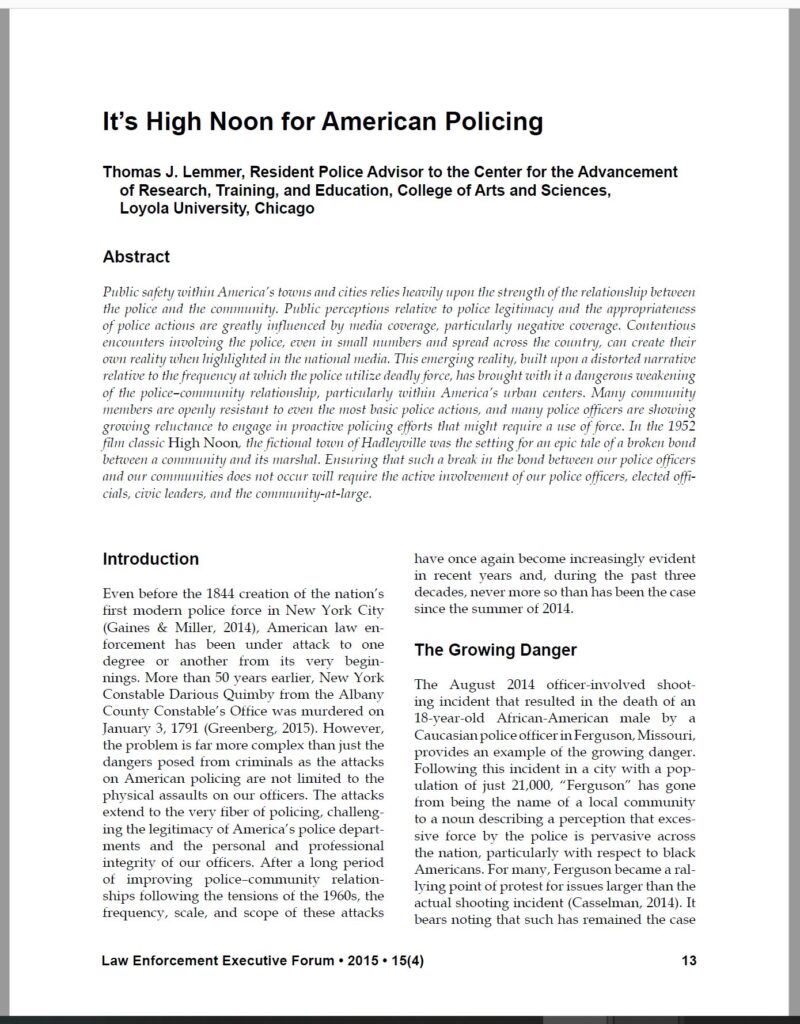 Why do so many Chicagoans have potentially moving out of the city on their minds? Because those who live in communities that suffer from elevated levels of violence are looking for true public safety. Ultimately, in it's absence, they flee, and in their absence, the city moves further down the road to becoming a Hadleyville.
Thomas Lemmer was the first to speak about Hadleyvilles in his 2015 article "It's High Noon for American Policing." A Hadleyville is a place where violence reigns, and no rational person chooses to live there longer than they must. Secure 1776 encourages its readers to read the full "High Noon" article and our initial post on the Hadleyville question in Chicago.
---
We are interested in your thoughts, and invite you to comment below.

Copyright Protected | (c) 2021 Secure1776.us – All rights reserved.