So on 1 September 2021, there were two news stories that directly relate to our post "The Sights, Sounds, and Bloodshed of an Increasingly Lawless City." One offering a sliver of hope. The other recording more anguish in a city in crisis. The sliver of hope related to the disturbing North State Street attack on Saturday, 29 August 2021. Chicago police announced the arrest of one offender identified from the viral video. However, the second story brought more heart-wrenching anguish. Yet another west-side murder. This time the murder of a father simply taking his seven-year-old daughter to school. It will be interesting to see what happens in Cook County Criminal Court relative to the offender arrested from the State Street incident. The murder of a dad as he shielded his daughter from gunfire – another sign of a city sliding into lawlessness.
Estimated reading time: 4 minutes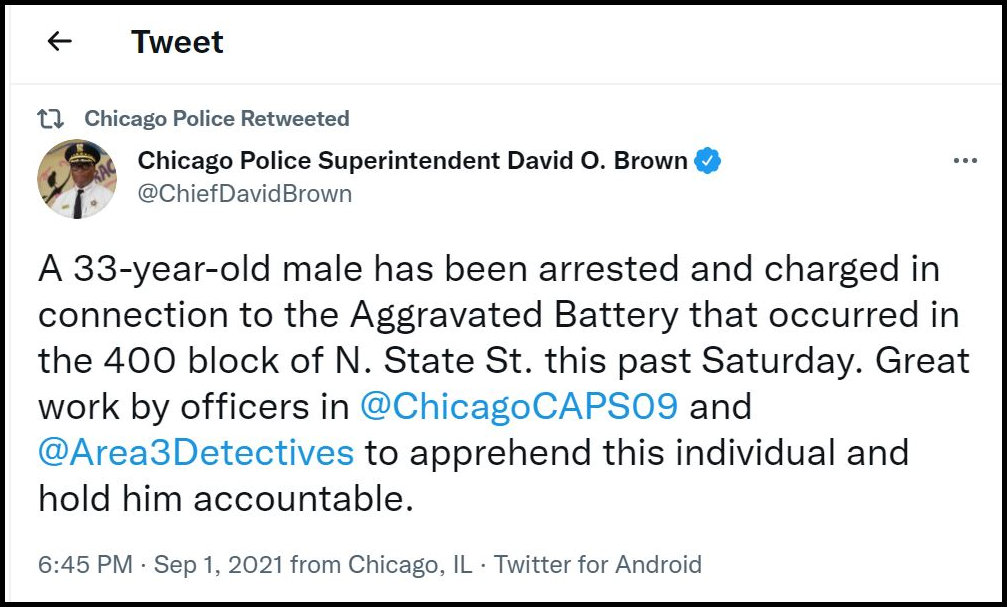 Sliver of Hope, State Street Attack Arrest
Chicago Police Superintendent David Brown tweeted on 1 September, that Chicago police detectives had arrested one of the offenders, from the 29 August State Street attack seen in a viral video. Superintendent Brown thanked the officers and detectives involved in the apprehension. The arrest is a sliver of hope, relative to a portion of the lawlessness evident in the video of the incident.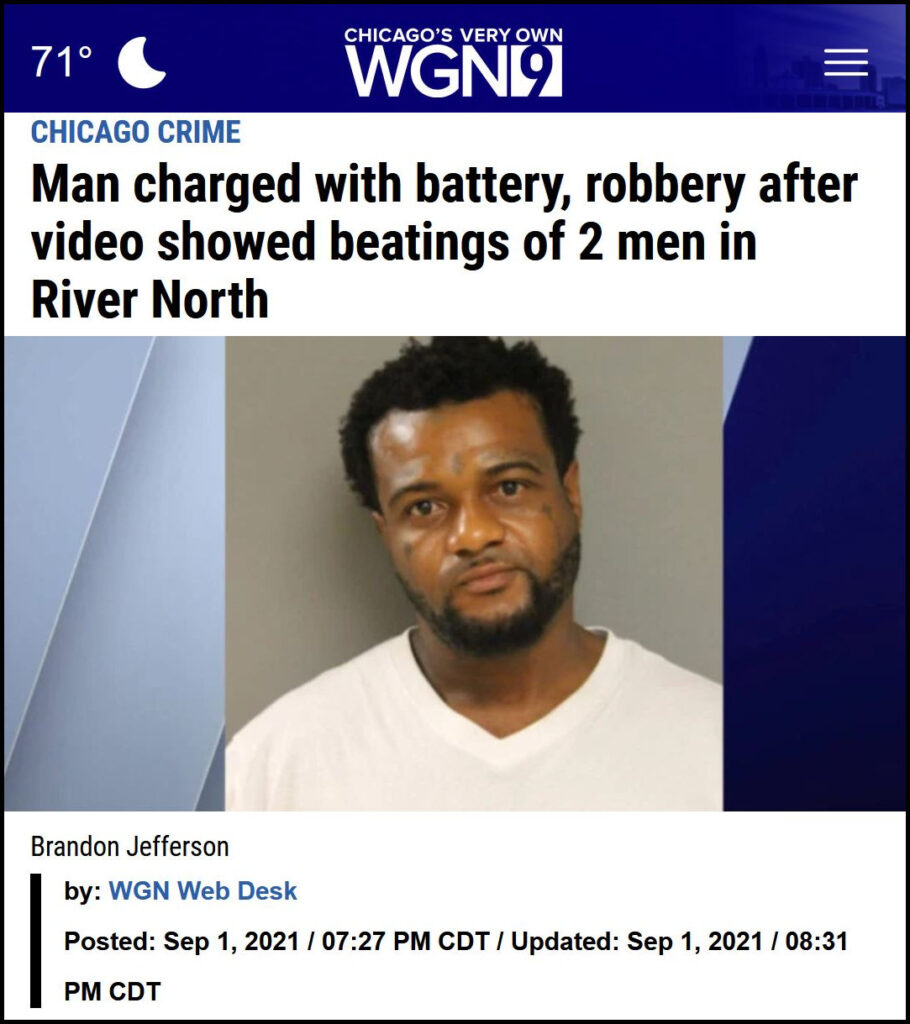 This incident was the "sights" example in our post "The Sights, Sounds, and Bloodshed of an Increasingly Lawless City." Today, WGN News reported that Brandon Jefferson, a 33-year-old man, was the subject arrested, and he was identified as the "shirtless" offender from the video. As reported by WGN, Jefferson, from suburban Wheaton, is facing aggravated battery and robbery charges. While not explained in the initial reporting, "Jefferson was also charged with possessing a stolen vehicle."
However, it is yet to be determined whether the Superintendent's "and hold him accountable" assessment will bear out. Secure 1776 will keep watch on whether the case actually moves to an outcome in Cook County's Criminal Court that holds the offender accountable.
More Anguish on the West Side
The "sounds" example, from our original post, concerned a list of priority calls to 911 that had not yet been dispatched in just one Chicago police district. The calls had not been dispatched, as by that time on a Saturday night, there were no patrol units available to respond to those calls. The district was the city's 11th District. Today in that same district, a father was murdered as he was simply driving his seven-year-old daughter to school.
The murder is yet another heartbreaking tale with more anguish for yet another Chicago family. As reported by WGN News, Travell Miller Gilmore, age 33, was shot while he and his daughter were inside his car, which was stopped in traffic. The shooting occurred at the intersection of Sacramento Boulevard and Chicago Avenue at about 7:30 a.m. Gilmore was shot four times. He was talking on his cell phone with his mother when the shooting began. Gilmore, reportedly then shielded his daughter as the gunfire erupted. She was not hit by gunfire. But, as shown in the news video below, she is clearly wounded on an emotional level. More anguish than should be thrust onto a seven-year-old child.
Chicago's Continuing Hadleyville Question
In the 1952 film classic "High Noon," the fictional town of Hadleyville was the setting. There gunmen were comfortable walking the town's streets in broad daylight. Sadly, a real-life gunman was comfortable today along Chicago Avenue. Now yet another Chicago child has a murdered father. In the end, no rational person chooses to live in a Hadleyville. Why? Because Hadleyvilles are lawless, violent places.
How does Chicago avoid becoming a Hadleyville? Those efforts that seek to demonize the police and weaken the police-community relationship must cease. Violent offenders must be held accountable, and victims of crime need to be a priority within the justice system. Additionally, the Chicago community overall must be credible in its demands for public safety.
Not Familiar with the Hadleyville Reference?
As an introduction to our discussion on "Hadleyvilles," Secure 1776 continues to recommend reading the article entitled, "It's High Noon for American Policing," by Thomas Lemmer. We also recommend his article entitled, "The Importance of "Us:" The Failure of Being Cast as Them," and then "Tragedy-Free Policing or Else: The Need for Critical Thinking." Finally, we recommend reading our other "in the news" posts with the Hadleyville tag.
---
We are interested in your thoughts, and invite you to comment below.

Copyright Protected | (c) 2021 Secure1776.us – All rights reserved.