Going back to the ancient Greeks, there are two main types of stories, comedies and tragedies. The 1993 film, "Groundhog Day," is a comedy set in Punxsutawney, Pennsylvania, a peaceful community that takes local pride in its annual celebration of Groundhog Day. In the film comedy, Bill Murray's character relives the same Groundhog Day, each day, for a very long time. Hadleyville, as we have discussed here many times, is the setting for the film, "High Noon." What we are seeing play out in Chicago is a tragedy on par of "Groundhog Day in Hadleyville." There a community relives violent weekend after violent weekend in a lawless cycle. Groundhog Day in Hadleyville is a shameful community experience. On this point, let us consider a sampling of what we have witnessed just since our posting on 1 September 2021.
Estimated reading time: 13 minutes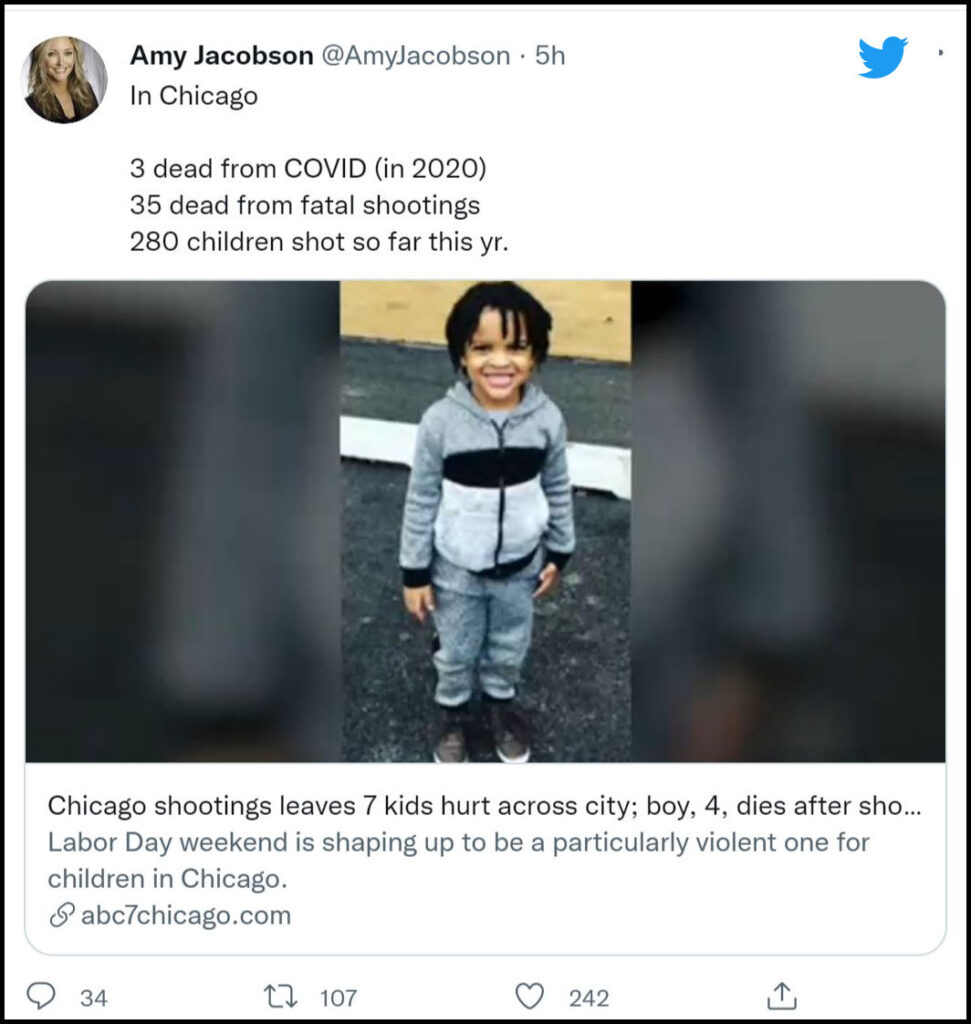 More Children Shot and Murdered
ABC7 Chicago, reported that as of Sunday, 5 September 2021, "at least seven children have been injured, and a 4-year-old boy was killed in separate shootings across Chicago this weekend." Year to date, 35 children have been murdered and 280 children have been shot in the city. Punctuating this point, ABC7 also reported: "Six kids were shot in just 12 hours from Saturday night into Sunday morning." Political commentator Amy Jacobson tweeted that by comparison, three Chicago children died of Covid-related illnesses in all of 2020. For all of the complications and disruption to normal life that has accompanied the pandemic, in cities like Chicago, lawlessness and violence have been more damaging to the very fabric and essence of the community.
By later on Monday, CNN was reporting that the number of children shot during Chicago's Labor Day weekend was at least eight. These shootings included an incident on Saturday involving a 12-year-old boy and 15-year-old girl. That shooting occurred in a gas station at Fulton Street and Francisco Avenue, and was shortly after the children attended a nearby "back to school" event. CBS2 reported that the incident was a "drive-by" shooting and that a 25-year-old "local rapper" had also been shot. All of the victims in this incident were expected to recover from their physical injuries. However, the father of the injured girl, Lemar Peterson, told CBS2: "I just heard the worst thing a daughter could say to her father. Daddy I've been shot.' Now she's in the hospital."
In a 10 a.m. Labor Day Monday press conference, Chicago Police Superintendent David Brown emphasized that most children shot in Chicago are not the intended target of the gunfire. Rather, they are in close proximity of violence directed at others when they are shot. Such is among the tragic byproducts of trying to live in a lawless city. WGN News reported that the 4-year-old, Mychal Moultry Jr., was inside a Woodlawn home sleeping, on Friday evening, when a bullet crashed through a bedroom window striking him in the head. He died on Sunday from his injuries.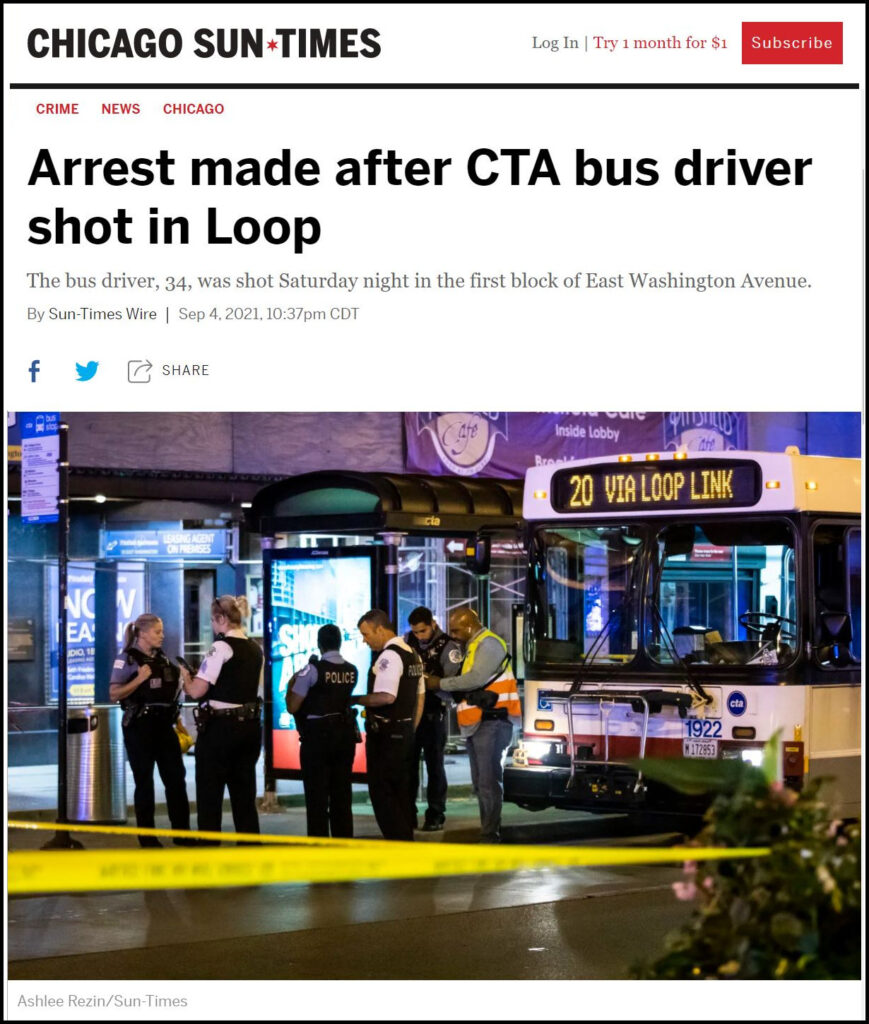 Continuing Weekend Violence
With the Labor Day holiday weekend still ongoing, as of early Monday morning, young Mychal was among at least 4 killed, and over 50 people shot so far this weekend in Chicago. Violence continues to be a problem in many Chicago neighborhoods and downtown.
Downtown Saturday night, around 9 p.m, a Chicago Transit Authority (CTA) bus driver was shot in the face by a rider. The shooting occurred on the same block as the Chicago Cultural Center. The center is an official special events facility for the city that is "dedicated to enriching Chicago's artistic vitality and cultural vibrancy." Sadly, in a Hadleyville, the culture is a violent one. On the night of the attack, the 34-year-old bus driver was listed as being in serious condition. An arrest was made quickly and a weapon recovered by Chicago police. Dennis Green, age 34, was subsequently charged with Attempt First Degree Murder, Aggravated Battery of a Transit Employee, Possession of a Firearm with a Defaced Serial Number, and being an Armed Habitual Criminal. He will appear in Bond Court tomorrow, 7 September 2021.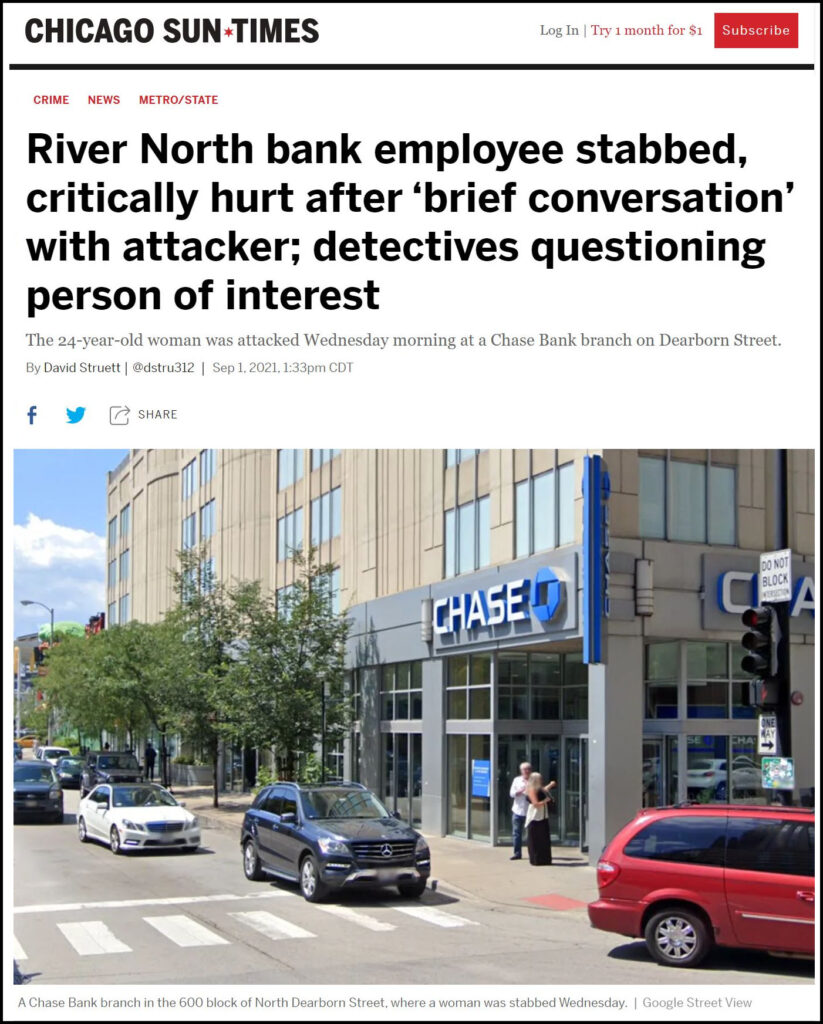 Bank Employee Murdered
Heading into this weekend, Chicagoans learned that a bank employee, who had been stabbed in the neck on Wednesday, 1 September, had died the following evening from her injuries. The incident occurred inside the Chase Bank lobby at Ohio and Dearborn Streets, in the River North area of the city's central business district. The bank is about a six-minute walk from the location of a 29 August 2021 attack on two men, which was captured on a viral video that was particularly noteworthy for is carnival-like lawless atmosphere.
The 24-year-old victim, Jessica Vilaythong, was attacked after a brief conversation in the bank with Jawaun Westbrooks, age 35. He is an individual with a history of violence. According to the Chicago Tribune, Westbrooks had attacked two women with a hammer near the city's famed Navy Pier in 2014. The two women in that incident had been attacked from behind. One woman's injuries required about 30 stitches to close. At the time of the attack, Westbrooks had the word "kill" tattooed on his left hand. He had been paroled in June of 2014 following a prior conviction for two counts of aggravated battery to a police officer. A Cook County court later found Westbrooks not guilty by reason of insanity for the Navy Pier hammer attack.
Both with this attack and in 2014, the Chicago Tribune quoted his mother, Theresa Jones, as saying that Westbrooks has displayed mental illness since he was 18-years-old. According to his mother, he refuses to take his medications for his diagnosed bipolar disorder and schizophrenia. In the days prior to the Navy Pier hammer attack, Westbrooks had threatened to kill her. Back in 2014, Jones told the Tribune, "she worked for years to have her son hospitalized, but authorities wouldn't take him unless he was deemed a threat to himself or others." Perhaps a Cook County court will make such a determination now.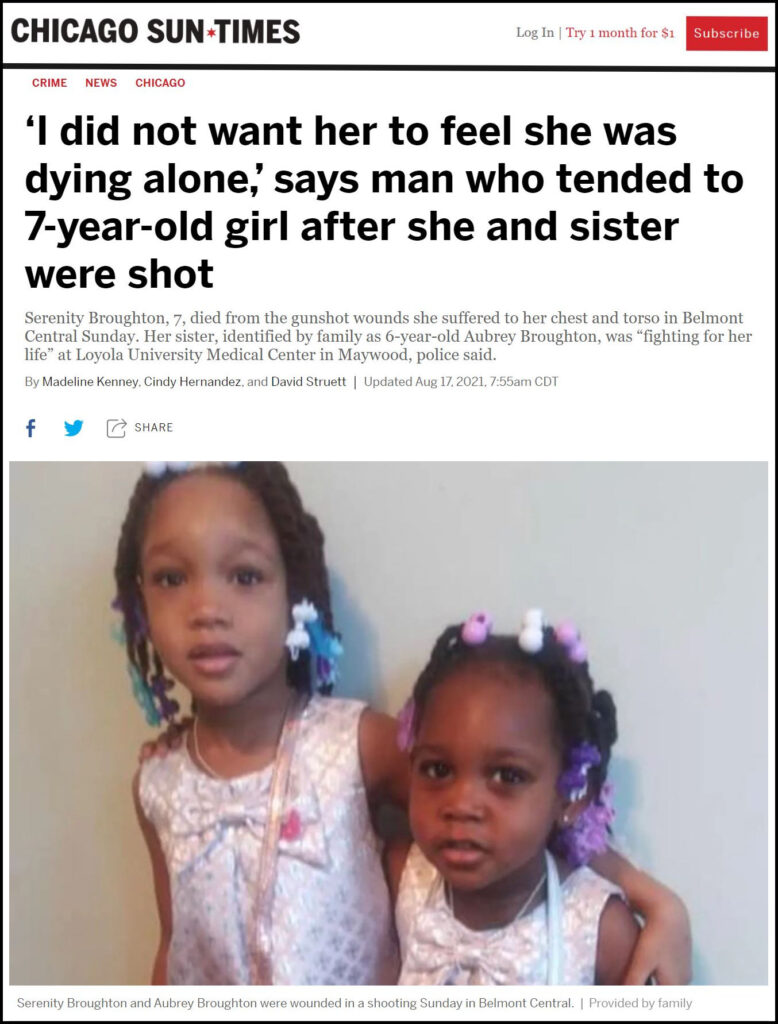 Update on the August Murder of a 7-Year-Old
On this past Saturday, 4 September 2021, the Chicago Tribune reported that Chicago police detectives sought to charge an offender in the 15 August 2021 murder of Serenity Broughton. Those charges were rejected by the Cook County State's Attorney's Office.
Serenity was just seven-years-old when she was murdered. It is beyond cruelly ironic that a child named Serenity was shot and killed, while her grandmother was simply trying to put her in the back seat of a car. Serenity was shot in the chest and torso. Her sister, Aubrey Broughton, just age 6, was also critically wounded. She was shot in her chest and armpit. The attack occurred on the city's west side on Grand Avenue near Melvina Avenue around 3 p.m.
The Chicago Sun-Times reported that a local healthcare worker, who wanted to shield his own identity, attempted to render aid prior to the arrival of paramedics. He is quoted as saying: "I just wanted her to be aware in case she was still conscious that someone was really caring for her while she was dying. I did not want her to feel she was dying alone."
On Monday, 16 August 2021, the official Twitter account for Chicago Mayor Lori Lightfoot posted a statement on the attack that left one Broughton sister dead and another critically wounded. That statement read in part: "We must declare war on these killers and their associates, and we must support our police as they leave no stone unturned as they search for the killers so that they may face justice." Despite the mayor's urging for support for police efforts, the office headed by Cook County State's Attorney Kim Foxx declined to approve charges in the case. It bears noting that Mayor Lightfoot had endorsed Ms. Foxx in her reelection bid last year.
As reported by the Chicago Tribune, police detectives were confident in their evidence against a suspect on parole they had in custody for the fatal shooting. According to a Twitter post shared by Chicago Alderman Raymond Lopez, detective command personnel initially went to override the rejection of charges by the Felony Review Unit of the Cook County State's Attorney's Office. However, reportedly Superintendent Brown relented and withdrew the department's bid to press a murder charge without the agreement of Ms. Foxx's office. As of this weekend, the unnamed suspect was reportedly charged only with a parole violation.
---
Quick Sidebar on the State's Attorney
The official Cook County State's Attorney's Office website includes a profile on State's Attorney Kimberly M. Foxx. The profile is worth mentioning here, as the most urgent discussion in Chicago concerns rising violence. Such is a task that does fall among her responsibilites.
However, in the profile, violent crime is only specifically mentioned once. That reference reads: "Kim has taken the lead on prioritizing resources away from low-level offenses to focus on violent crime, including raising the threshold for approving felony charges for retail theft to $1,000, and declining to prosecute misdemeanor traffic offenses for failure to pay tickets and fines." Her profile does also highlight her prioritization of criminal justice reform efforts, including the overturning of convictions, being "a leader in bond reform," and "passing legislation to legalize cannabis." Nowhere in her profile is there any mention of support for the work of the law enforcement profession. Secure 1776 encourages our readers to review the profile for themselves. We also encourage them to reach their own assessment relative to the county prosecutor's effectiveness in her "focus on violent crime."
In an article posted on 3 September 2021, columnist John Kass noted how he did not see "packs of reporters hounding" State's Attorney Foxx, County Board President Toni Preckwinkle, or Chief Judge Timothy Evans relative to the violence in the city. He urged Chicagoans to "connect the dots." Relative to the increased risks to public safety, he wrote there is: "No mercy for you. No mercy for the public. But mercy for repeat violent offenders." Such is in keeping with living in a lawless city.
---
Something different – Relative to Groundhog Day
In the film comedy Groundhog Day, there are dark moments as Bill Murray's character struggles with having to relive that single day. Murray plays television weatherman Phil Connors, who is sent to do a report on whether the groundhog in question, "Punxsutawney Phil," did or did not see his shadow. Legend holds that if the groundhog sees his shadow on February 2nd, the weather is said to be "winter-like" for six more weeks.
Early on in his journey, an angry "Phil Connors" answers: "You know, you want a prediction about the weather, you're asking the wrong Phil. I'll give you a winter prediction. Its going to be cold. Its going to be grey. And its going to last you for the rest of your life." The prediction that comes with Groundhog Day in Hadleyville has nothing to do with the weather. In such a place, the prediction is that the days will be lawless, violent, and deadly – ending the lives of many, including children.
For Phil Connors, as he endlessly relives Groundhog Day in Punxsutawney, anything different brought welcomed relief. Particularly as he began to learn his cosmic lesson. Before being compelled to relive Groundhog Day perpetually, Connors was a self-centered, indifferent man, focused only on his own pleasure. Exposed to the kind and caring people of Punxsutawney, Connors shifts his attention from getting to the "next day" to making the most of the day at hand. It was not an overnight change relative to his fate. He was stuck in his loop a very long time. Long enough to learn many new life skills. But in the end, he got through to the "day after" Groundhog Day. When he did so, he was a changed and better man.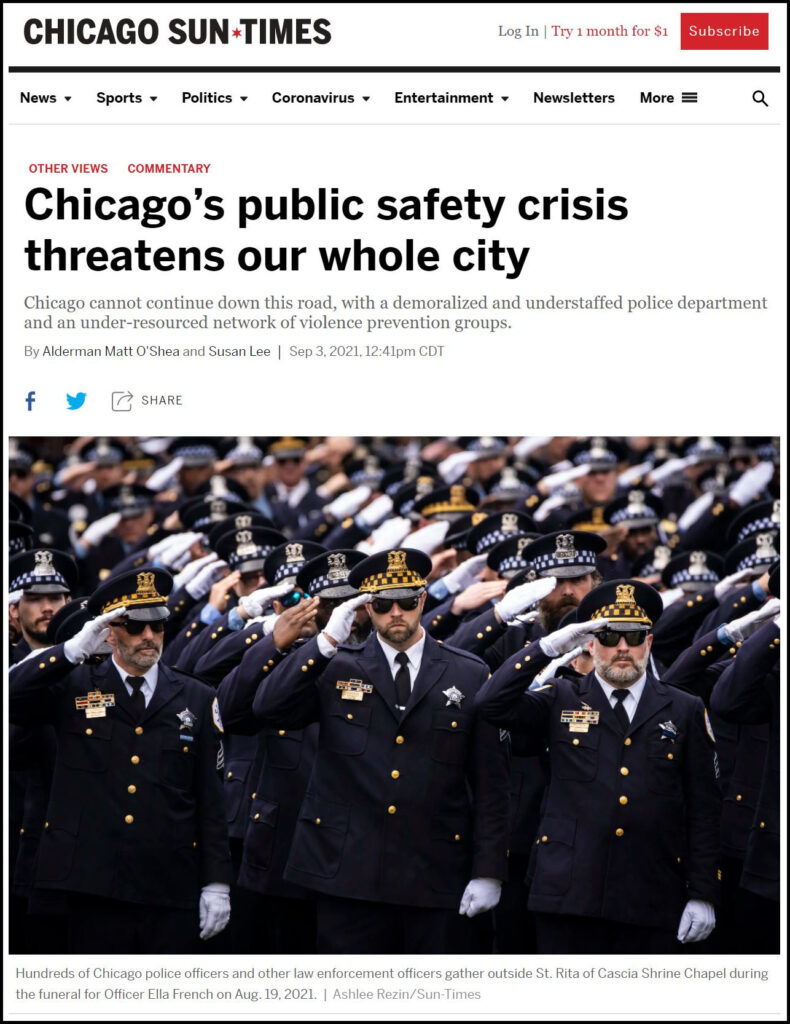 There are a few key questions for any city at risk of being in an endless loop of living and dying on Groundhog Day in Hadleyville. When will a sufficient number of key elected officials and civic leaders step up to the crisis at hand? Who will they be? What has the community learned about their leaders? When will the community hold accountable the officials and leaders who refuse to meet the challenge – or worse, are actually deepening the crisis?
On Friday, Chicago Alderman Matt O'Shea signaled he is stepping up, as he co-authored an op-ed that appeared in the Chicago Sun-Times. While his colleague, and audible voice of concern on the subject of public safety, Alderman Raymond Lopez, does not approve of co-author Susan Lee, the op-ed is significant.
Additional Analysis of the O'Shea Op-Ed
Here is why Secure 1776 finds the op-ed important. Without question, a huge factor in why Chicago has continued on the path of becoming a Hadleyville, is the damage that has been caused to the police-community relationship within the city. Alderman O'Shea has correctly observed this fact. Quoting from the op-ed: "Simply put, we need more police officers, and we need them now. It's not at all clear where we will find qualified candidates — especially when the prevailing media narrative inaccurately portrays cops as the enemy." Where indeed? The op-ed reported that the department is short at least 600 officers.
The op-ed also noted: "Our officers are stretched thin and demoralized." So far 39 officers have been shot or shot at, including slain Police Officer Ella French, and her severely wounded partner, Carlos Yanez, Jr. Clearly, they and their fellow officers are not the "enemy." When will the voices of support for the police, from among the elected officials in city hall and the county building, be more consistently and loudly heard on this fundamental point?
The op-ed overall voiced support for a firm "and" response to violence in the city. Not a fully-supported police department or prevention efforts. Quoting: "We're in crisis and we can't continue down this road with a demoralized, understaffed police department and an under-resourced network of violence prevention organizations."
The op-ed is worth a read.
The call to action is one the city's mayor, other alderman, county board president, and the county prosecutor need to heed. If not, the days ahead days will continue to look like Groundhog Day in Hadleyville. They will be lawless, violent, and deadly.
Not Familiar with the Hadleyville Reference?
As an introduction to our discussion on "Hadleyvilles," Secure 1776 continues to recommend reading the article entitled, "It's High Noon for American Policing," by Thomas Lemmer. We also recommend his article entitled, "The Importance of "Us:" The Failure of Being Cast as Them," and then "Tragedy-Free Policing or Else: The Need for Critical Thinking." Finally, we recommend reading our other "in the news" posts with the Hadleyville tag.
---
We are interested in your thoughts, and invite you to comment below.

Copyright Protected | (c) 2021 Secure1776.us – All rights reserved.