In an article written by Leandra Bernstein, the dramatic reductions in police staffing levels, particularly in America's large cities are examined. "Why stay?" Bernstein notes: "Law enforcement has always been a difficult job but over the past year, more police officers are leaving the profession." Below, Secure 1776 notes several key points and draws out our analysis from the article. The full article can be read on the NBC Montana site.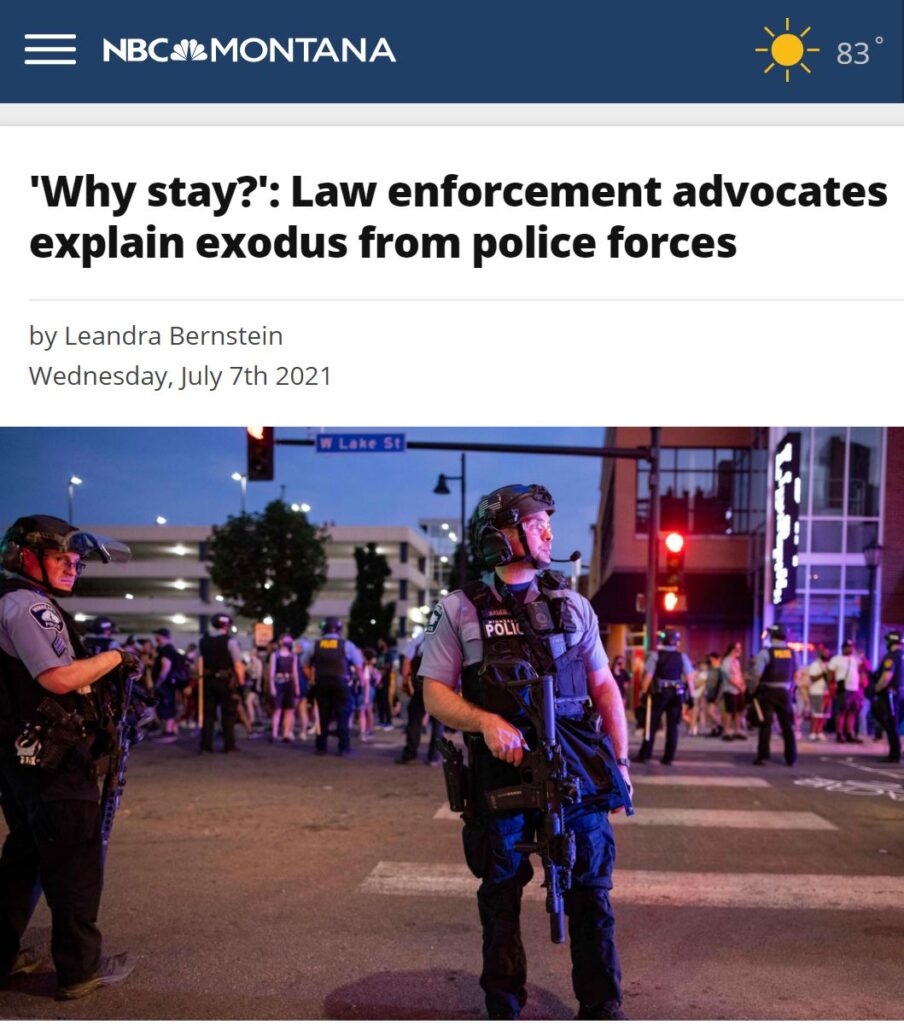 Bernstein reports on troubling data relative to staffing levels in America's police department, particularly among the nation's largest cities since 2020. Bernstein noted:
"Portland has seen over 100 officers leave the department since last summer."
"Seattle lost 200 officers, leaving a force of 1,080 to police a city of 725,000 people."
"New York City lost 15% of its force last year, or about 5,300 officers."
"Over 200 officers have resigned or taken leave from the Minneapolis Police Department in the year following the killing of George Floyd."
"The Louisville, Ky. Police Department shrank by 20% in 2020, after police were charged with the fatal shooting of Breonna Taylor."
Tulsa, Ok. "is authorized to have 943 officers but is down to 800 after recently losing close to two dozen officers."
"Asheville, N.C. Police Department declared a "staffing crisis" after losing 84 officers over the last year—roughly one-third of its force."
"According to the Police Executive Research Forum (PERF), officer resignations were up 18% in the first half of 2021, compared to the same period in 2020. Police departments reported a 45% increase in the retirement rate over the last year."
The departures have been most pronounced in the nation's larger cities – where spikes in violence since the summer of 2020 have been sharp. Many officers old enough to retire are doing so at an increased pace, and big-city officers not old enough to retire are leaving for jurisdictions more supportive of the police or leaving the profession altogether. Additionally, with the combination of rising violence and an aggressive anti-police narrative, recruitment efforts to attract new officers are struggling. A June 2021 survey by PERF found that over the past year, hiring rates have declined 36% for police agencies with 500 or more officers.
With significant staffing shortages in many police departments, several of those agencies have been forced to scale back operations – providing fewer services to their communities at the very time that violence levels are elevated — and many residents have called for a greater police presence.
---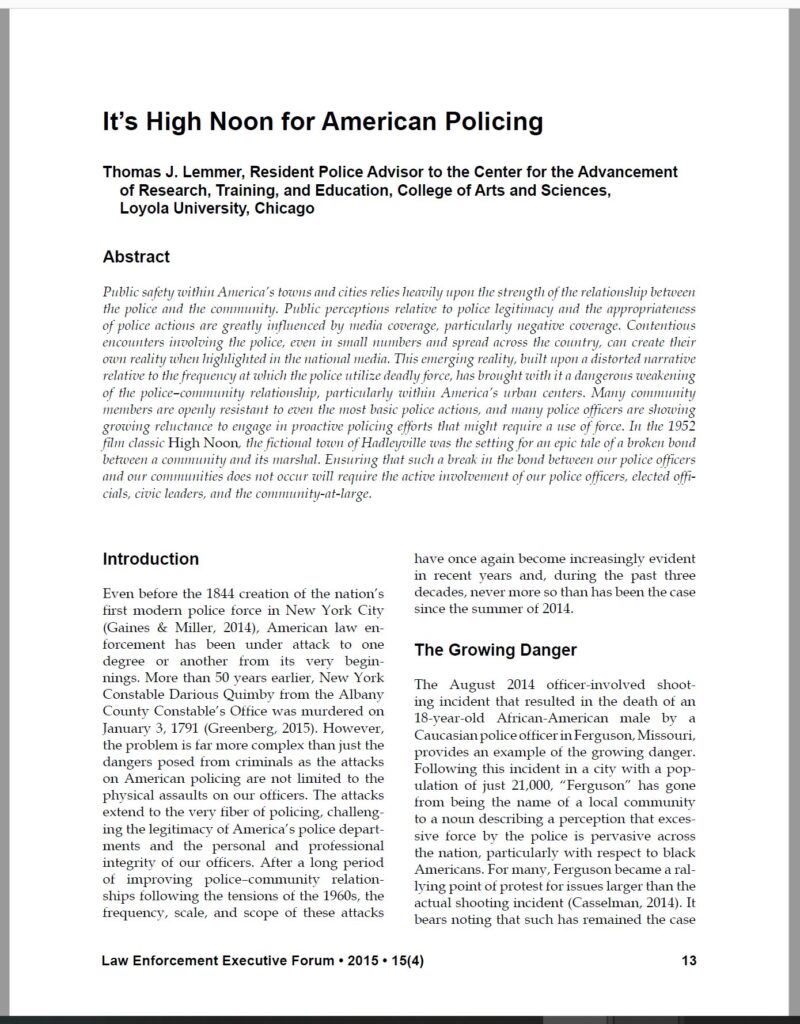 In our article, "It's High Noon for American Policing," Thomas Lemmer used the tale told in the 1952 film classic "High Noon" to highlight the dangers when the police-community relationship is broken. In the film, actor Lon Chaney plays Martin Howe, a former town marshal and a once-respected "lawman." Gary Cooper plays the film's central character, Will Kane, the current marshal for Hadleyville, the fictional western town that is setting for the film. A pardoned killer, a man who had sworn to seek revenge against the marshal and the town, is due to arrive on the noon train. Marshal Kane finds himself standing alone to face the returning killer and three others from his gang. Desperate for advice Marshal Kane seeks out Martin Howe, reminding Howe that he had been a "lawman his whole life." Howe responds:
"Yeah, all my life. It's a great life. You risk your skin catching killers, and the juries turn them loose, so they can come back and shoot at you again. If you're honest, you're poor your whole life. In the end you wind up dying all alone on some dirty street. For what? For nothing. For a tin star."
Howe's response to Marshal Kane is an amazing premonition of the doubts expressed by many police officers today regarding the profession. View the full "It's High Noon for American Policing" for more information on the dangers of the false narrative on policing, as well the actions needed to prevent our cities and towns from becoming real-life Hadleyvilles.
---
We are interested in your thoughts, and invite you to comment below.

Copyright Protected | (c) 2021 Secure1776.us – All rights reserved.