A politically-divided America has pulled the nation's people apart from one another for many years now. In many ways, the political divide has been observed in the discussion, turned debate, turned something more than a debate centering on the relationship between the larger community and their police, particularly in the nation's big cities. However, recent polling by Navigator Research shows a consensus has emerged that crosses the political divide – the surge in violence is the nation's leading major crisis.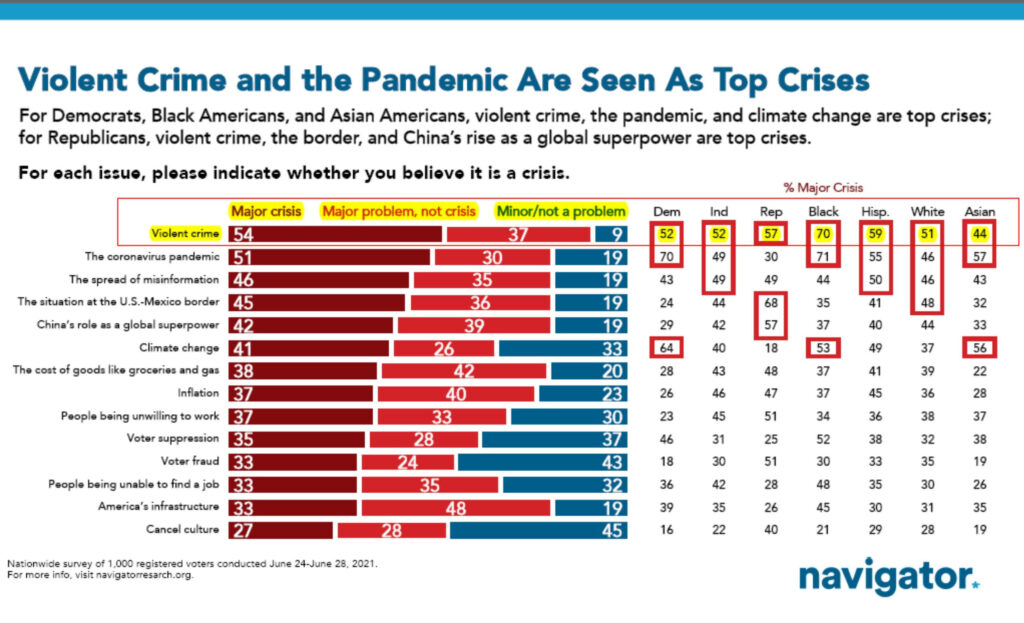 Analysis from Secure 1776
The survey's responses were divided into three categories; with a "major crisis," being the rating of most concern. Of 14 topics, violent crime was listed as a "major crisis" for 54% of the respondents –

higher than all other issues listed

.
Fully 91% of the respondents rated the issue of violent crime as either a "major crisis" or at the second highest level of concern, a "major problem, not a crisis."
While the political divide can be seen in the breakdown of ratings among many of the other issues listed in the survey, violent crime is a "major crisis" across the political spectrum. A majority of responses from Democrats, Republicans, and Independents rated "violent crime" as a "major crisis."
70% of Black respondents rated "violent crime" as a major crisis. Blacks were the most likely of the four racial/ethnic groups to place "violent crime" as an issue at the rating level of most concern.
Flipping the coin over and looking at the issue of "violent crime" from what percentage of the respondents cited the issue at the least level of concern – just 9% of the respondents saw violent crime as a "minor" issue or "not a problem."

No other issue had fewer respondents listing the issue at the lowest rating level of concern

.
---
We are interested in your thoughts, and invite you to comment below.

Copyright Protected | (c) 2021 Secure1776.us – All rights reserved.