On 6 December 2022, the Illinois Law Enforcement Training and Standards Board (ILETSB) Executive Institute will again be hosting Thomas Lemmer as part of their 2022 Executive Summit Series. Lemmer will be presenting his law enforcement leadership seminar, Engagement That Meets the Mission. The focus and level of engagement among the members of an organization are key variables in separating highly-effective agencies from failing ones. By optimizing the engagement level of agency supervisors and embracing effective accountability approaches, this instruction helps to build an organizational culture of excellence. The cost of this seminar is covered by the state training board for Illinois law enforcement supervisors and executives. The course is certified by the ILETSB for 6.5 hours of credit under the Procedural Justice law enforcement training mandate.
Estimated reading time: 5 minutes
Engagement and Accountability Are Essential
In any department with more than one member, no police executive can know all that goes on, at all times, within their organization. Even in smaller agencies, having one or two top-performing members is not enough for the organization overall to meet its mission. Two interrelated engagement factors are key in establishing a highly-effective organization. First, fostering excellence among the agency's supervisors. Second, establishing internal assessment approaches that continually measure and build the organization's core performance capabilities.
The Eight Levels of Supervisory Engagement

:

A fundamental truth of organizations, including law enforcement agencies, is that underperforming and problem employees exist. When the underperforming or problem employee is a supervisor, the need for the organization to respond is elevated. Effectively addressing deficient and problematic supervisors is advanced with an understanding of the "Eight Levels of Supervisory Engagement."

These eight levels are identified by considering three key variables: (1) the level of technical knowledge and tactical skill; (2) the willingness of the supervisor to direct subordinates and proactively address performance issues; and (3) whether and the level to which the supervisor has come to reject (deviate) from the organization's values, goals, and strategies. Once the eight engagement levels are understood, 19 separate response strategies can either improve supervisory performance or mitigate the harm from problem supervisors.
Why Highly-Effective Organizations Measure Performance

:

There are two key reasons for an organization to measure its performance, which is a composite of the performance levels of all of its members. First, standards provide the pathway to excellence. Only through measuring can an agency know how well it is meeting its mission. Second, you can be sure that someone outside the organization will be measuring. This is particularly the case when others believe your agency is not "measuring up."

Three "R" factors combine to identify a police agency's performance level. They are: (1) "Readiness," examining factors relating to preparedness; (2) "Response," examining factors relating to the agency's activities and operations; and (3) "Reach," examining factors relating to staff utilization internally, as well as coordination with other agencies, and the community.

Identifying the key measures for your department for each of the "Three Rs" is the first of three key performance assessment steps. The second is actually doing continual assessments. The third is having the courage and skill to address underperformance.
Who Should Attend This Vital Training

?
This Executive Summit is an essential training for police executives, command staff, supervisory personnel the rank of lieutenant and above. This seminar is also of value to city and village managers, as well as other governmental officials with oversight responsibilities relating to public safety.
The December 2022 Session Details
This training will be held from 8:30 a.m. to 4: 00 p.m. at the Illinois Valley Community College in Oglesby, IL. The college campus is about a 90-minute drive from Chicago's South Loop and about a 70-minute drive from Peoria or Rockford, Illinois.
Tuition costs are covered for Illinois law enforcement supervisors, command personnel, and chiefs of police. Registration is required. Interested personnel can go directly to the ILESTB Executive Institute's page to register now. The deadline to register for the 6 December session is 30 November 2022.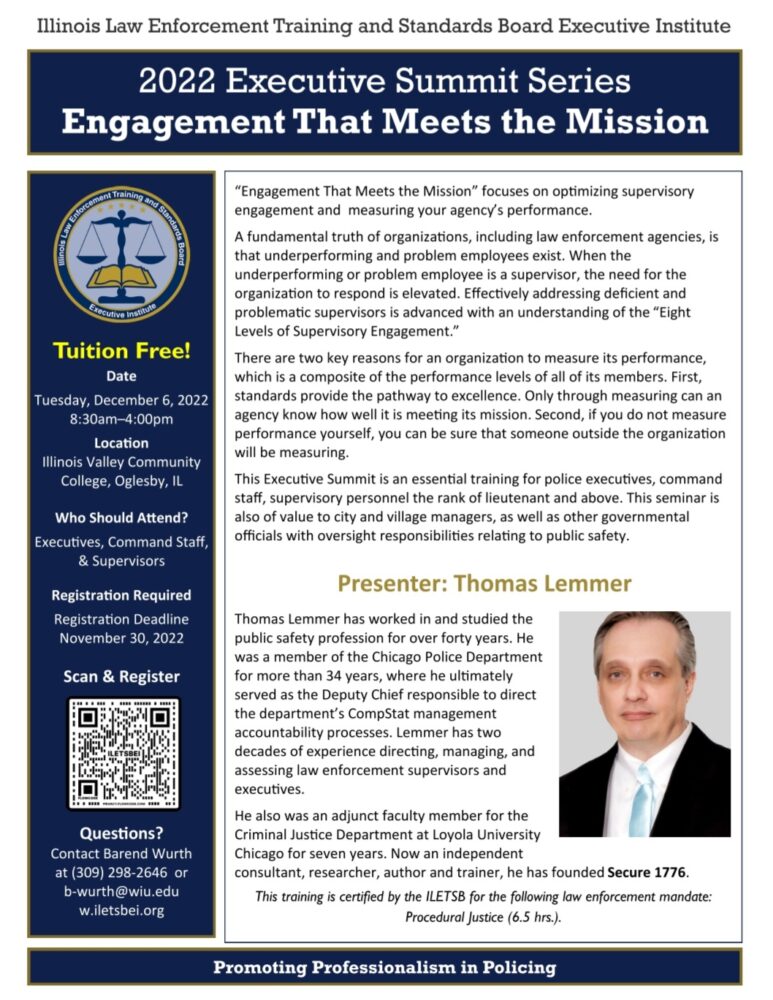 The Executive Institute previously hosted this seminar in March 2022 for over 50 leaders in Illinois law enforcement. Other of our training course options have are already been scheduled for 2023.
Secure 1776 continues to be proud of our ongoing collaboration with the Executive Institute. We fully support their mission to promote professionalism in policing.
Bring Our Training Directly to Your Agency
To bring this executive seminar directly to your agency, anywhere in the United States, go to the contact form on our course summary page.
Learn more about all of our course and consulting services options by going to our Training and Consulting Services main page.
Founder's Post Training Event Update – 8 December 2022
It is always such an honor to present in partnership with the ILETSB Executive Institute. A great session this Tuesday on the Illinois Valley Community College campus. Great support from Barend Wurth from the institute. Great exchanges, on the topics of management accountability and the demands of supervision, with the participant professionals attending the session.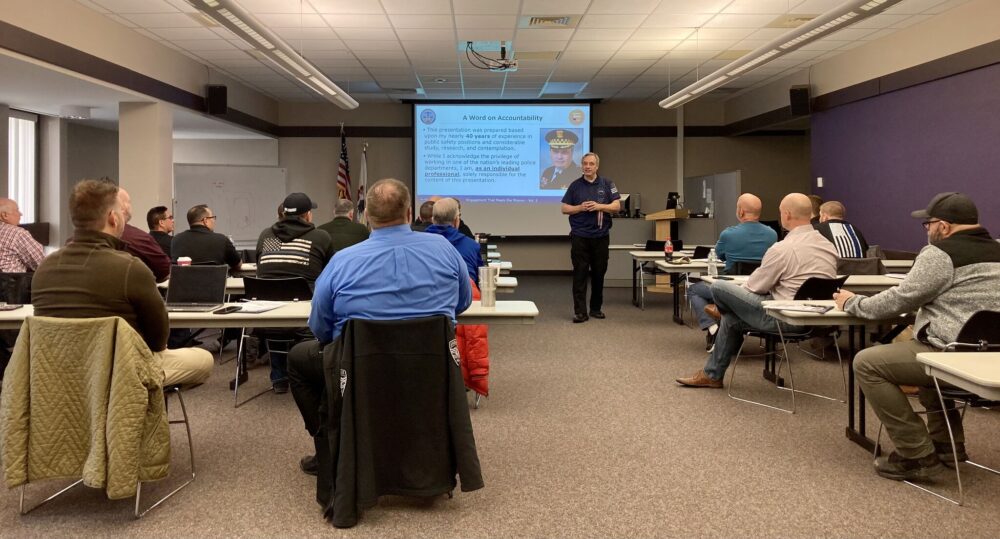 I strongly encourage all Illinois law enforcement supervisors, from sergeants to chiefs, to make attending Executive Institute seminars a scheduling priority. The training sites are always participant friendly, the topics relevant, and the program quality top notch.
I am excited to report that I will continue to be instructing via the Executive Institute multiple times in 2023. In February, I will be holding a two-hour webinar discussing leadership and guidance on meeting the challenges of the profession. In March, I will be presenting on supervision, police misconduct investigations, and policy development for newer chiefs of police. A September event is also forthcoming. Stay tuned.
---
We are interested in your thoughts, and invite you to comment below.