On 15 February 2023, the Illinois Law Enforcement Training and Standards Board (ILETSB) Executive Institute will again be hosting training developed by Thomas Lemmer. The upcoming event is part of the institute's 2023 Live Webinar Series. Lemmer will be providing a special presentation of his course Countering a Tragedy-Free Policing, Or Else Standard. The two-hour webinar will also draw from his courses Leadership is an All-Levels Responsibility and So You Ask Yourself Why Me? Why Now? The cost of this webinar is being covered by the state training board for Illinois law enforcement personnel. The course is certified by the ILETSB for 2 hours of credit under the Procedural Justice law enforcement training mandate.
Estimated reading time: 5 minutes
Countering a Tragedy-Free Policing Narrative
Whenever the police are viewed as separate and apart from the community, the police will fail in their public safety efforts, disorder and violence will increase, and an increased frequency of incidents viewed as abuses of authority are inevitable. Both public officials and the public-at-large have been increasingly urged by activists (aided by the media and others) to view the police against a deliberately unattainable standard that can best be described as "tragedy-free" policing. This course builds upon the defining article, "Tragedy-Free Policing or Else: The Need for Critical Thinking," written by our founder, Thomas Lemmer.
Key Questions Have Emerged Among Officers

:

Without question, America is in the midst of a public safety crisis. Rising violence and lawlessness have been most visible in America's largest cities. However, concerning increases in crime have also been seen in suburban and rural areas. The nation is sharply divided politically, and public service has often been the focus of far more criticism than gratitude. So, in this challenging environment, it is not surprising that many police officers, deputy sheriffs, state troopers and others within the law enforcement profession – from frontline officers to agency chiefs – have asked themselves two questions. Why me? Why now?

The demands on the police are many. They patrol seeking to prevent tragedy. We send our officers into circumstances that are already tragic, or are at grave risk of turning tragic. They respond in the wake of tragedy at great personal risk. Their dedication, heroism and compassion save lives, protect the innocent, and build safer and stronger communities.
A Need for Leadership

:

Each police officer, even those not holding a formal rank has the sworn duty to lead by example on two key levels. First, within the community that the officer serves. Second, among the other members of the officer's unit, department, and profession. The best formal leaders understand that fundamentally, leadership is about persuasion. These leaders, draw upon their own informal (or relational) leadership abilities, and they do not rely upon the power of their rank alone to get others to act. They inspire.

Each individual officer – for their part of the mission – is the "key piece of the puzzle" that makes it all work. It is a responsibility of those holding formal leadership positions, to help everyone within their organization understand this core principle. In policing, leadership is an all-levels responsibility.
The Path Forward

:

Understanding and countering the "tragedy-free" narrative trap will require continuing commitment to the highest possible standards from within the policing profession, and active engagement to grow the voices of support for the police from across the "community of us." The session will provide clarity on the need for active involvement by our police officers, elected officials, civic leaders, and the community-at-large.

We as an entire community must reject the efforts to demonize the police. Police accountability efforts must distinguish between unintended or unavoidable tragedy, and true misconduct. As a community, we need our elected officials and civic leaders to foster unifying approaches that advance constitutional policing, reduce violence, address chronic crime conditions, improve public safety, protect victims, foster wellness, and enhance community support for the police.
Who Should Attend This Vital Training

?
This is helpful training for all working within the law enforcement profession. Police executives, command staff, and supervisory personnel should take particular advantage of this training opportunity. Illinois law enforcement personnel should follow the register information below.
This training is also of value to legislators, the judiciary, city and village managers, as well as other governmental officials with oversight responsibilities relating to public safety. They and law enforcement personnel from outside of Illinois should contact Secure 1776 for more information.
The Webinar Session Details
This webinar will be held live on 15 February 2023 from 9:30 a.m. to 11:30 a.m. (CST) via the Zoom telecommunication platform. Registration is required. The deadline to register for the webinar is 13 February 2023.
Interested Illinois law enforcement officers, supervisors, command personnel, and chiefs of police can go directly to the ILESTB Executive Institute's page to register now. Illinois law enforcement personnel must enter their eight digit Police Training Board (PTB) ID number to receive training credit. The training board provides a quick PTB ID Number Lookup Page for this purpose. Others interested in this training should contact Secure 1776 for more information.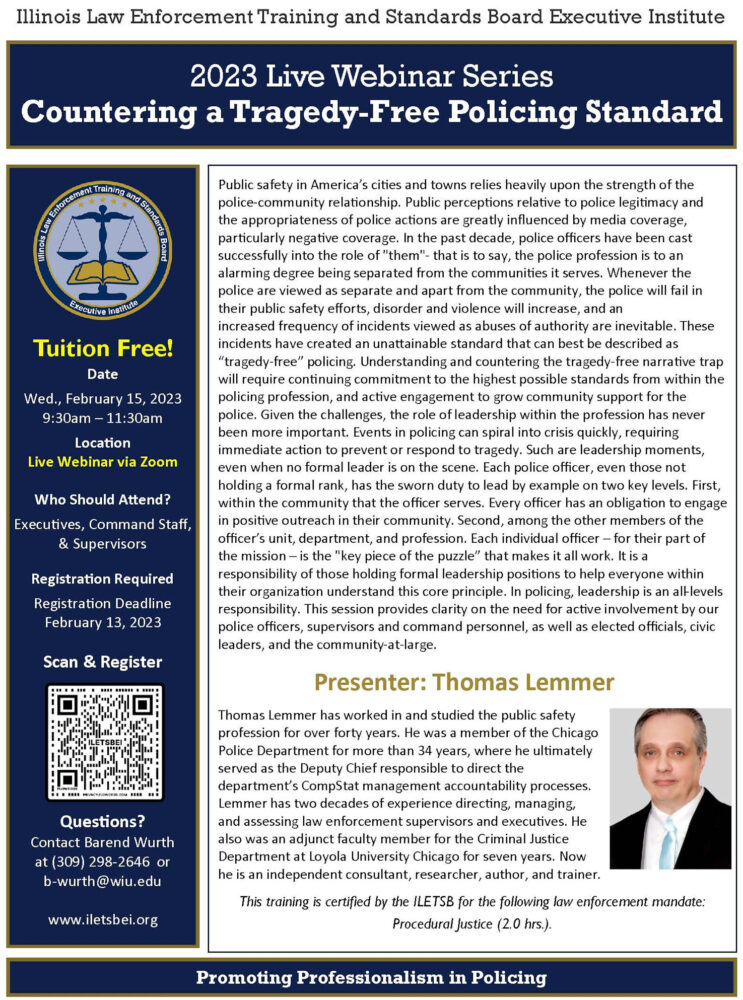 Our Collaboration with the Executive Institute
Secure 1776 continues to be proud of our ongoing collaboration with the Executive Institute. We fully support their mission to promote professionalism in policing. Additional training events under this collaboration have already been scheduled. In March, Lemmer will be presenting on supervision, police misconduct investigations, and policy development for newer chiefs of police. A September event is also forthcoming. Stay tuned.
Bring Our Training Directly to Your Agency
To bring this executive seminar directly to your agency, anywhere in the United States, go to the contact form on our course summary page.
Learn more about all of our courses and consulting services options by going to our Training and Consulting Services main page.
---
We are interested in your thoughts, and invite you to comment below.